Dear Year 6 families,
We hope that you are all keeping well despite this difficult year. Miss Marshall and the pastoral team have been busy visiting your children at their schools, answering their questions and telling them about the exciting plans we have to welcome them to the Noadswood family.  We'll be visiting more schools prior to our transition day, we've been thrilled to meet your children!  If your child is currently at a school that is out of catchment and would benefit from an online meeting please do get in touch and we'd be very happy to arrange this. We will be confirming your child's House and tutor group via email at the end of June, allowing families enough time to buy their appropriate House tie.
Moving Up Day:
As you are no doubt aware the delay in the roadmap saw the DfE released the following guidance on 15th June regarding transition:
"You should complete thorough risk assessments before running transitional, taster and open days in your setting, to ensure that they are run in line with your system of controls and align with the advice contained within the guidance for your setting and the roadmap out of lockdown.
This means that traditional transitional and open days are unlikely to be feasible this academic year but we are keen not to restrict individual settings from designing events which maintain the integrity of bubbles or consistent groups, and adhere to the system of controls in place."
We are absolutely committed to providing all children with an in person transition experience whilst ensuring that we adhere to all Covid-19 guidance. Therefore we will be no longer be holding two transition days on the 1st and 2nd July at our school. We have a large number of primary schools and we cannot maintain the integrity of school bubbles with our planned transition events.  We know how important an in person transition visit is for your children and we really can't wait to welcome them to our school, albeit slightly differently.  We will instead be shutting the school to our current pupils on Thursday 22nd July in order to welcome our year 6 cohort for their moving up day.  This will allow us to use our full school site and to adhere to all government guidance for schools on Covid-19. 
We understand the timing of this, during the children's last couple of days of primary school life, is exceptionally difficult, but it is the only way we can bring the year group as a whole together safely before the end of term, balancing the needs of our current children with the needs of Year 6. If you would like your child(ren) to remain with their primary school on that day, we completely understand. As Miss Marshall has also been saying on her visits, we have lots of time together at the Summer Camp, should your child be able to join us for that and then we have two special days for Year 7 at the start of term which will be dedicated to helping welcome them to the Noadswood family.
Moving Up Day Details:
Prior to arrival we ask that all pupils unless exempt complete a Lateral Flow Test 24 hours prior to arrival on our Noadswood site.

We ask that children should attend wearing their primary school uniform and trainers.

We ask that they bring a re-fillable water bottle and lunch box. If your child is in receipt of free school meals, our Noadswood catering team will provide their lunch.

. Noadswood will be providing a break time snack, if your child has a specific dietary need please do indicate this on our form at the bottom of this correspondence. In order to adhere to Covid-19 guidance we will be spending time outdoors, please do ensure that your child wears sun tan lotion and brings a coat.

We ask all pupils to arrive on site at their designated points at 9.00am - please see the map below. These are based on your child's current school. To adhere to our Covid-19 safety protocols we ask that you drop your child and do not wait with them- rest assured the Noadswood staff community will be on hand to welcome them in.

Should your child develop Covid-19 symptoms, have a positive Lateral Flow Test or PCR test over the weekend, we ask that you inform your child's school and email

health@noadswood.hants.sch.uk

with the name of your child and their current feeder school. This will allow us to do effective track and trace.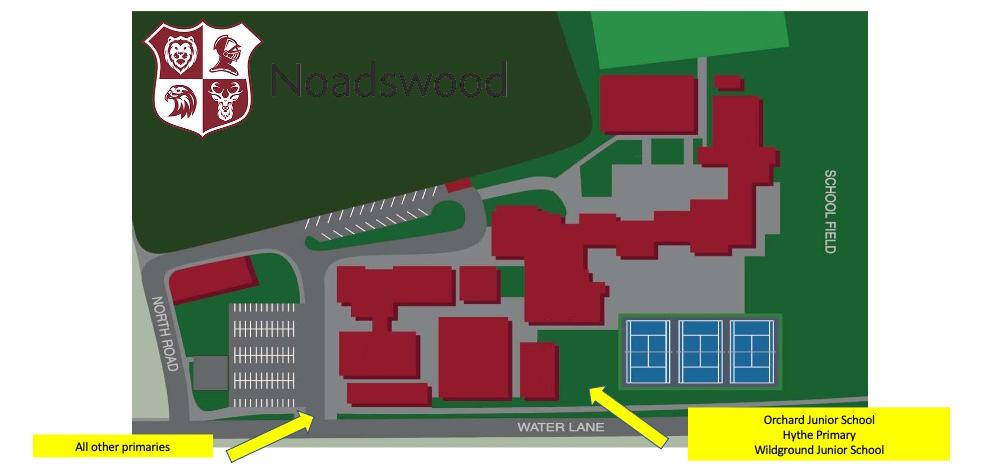 WATERLANE-  Orchard Junior School, Hythe Primary and Wildground Junior School
Main Entrance- All other primary schools
Arrive at 

9.00am via the designated point

During their time with us we will be giving all pupils a tour of the school, the opportunity to meet Miss Marshall, their head of year 7 and their tutor. They will also have the opportunity to experience lessons with our staff.

The day will end at 2.00pm, children will be escorted to their designated exit points (These will be the same as where they entered our school site)  
If the national or local picture changes we will be in contact about a virtual offer but please rest assured we are absolutely committed to ensuring that we will do all we can to welcome your child to our school. If for some reason your child is unable to make our new date please do get in contact with us, we have outlined the other exciting things we have planned to support your child with transition below.
---
Summer Camp:
We are excited and planning away for what we hope will be a fun packed summer camp.  Thank you for completing our initial form, we are aware that your plans may have changed since our initial contact and ask all families intending to send their child to summer camp to complete the form at the bottom of this correspondence to confirm your child's place. We'll also be communicating further details regarding the details of the day to you later in the month.
---
Transferring to Secondary School Event Monday 5th July 8-9 pm:
In addition to our online transition evening on Thursday 8th July we are delighted to offer parents and carers the opportunity to attend a workshop run by Lorraine Lee. This will be online and focused on how you can best support your child with their move to secondary school. Lorraine has 3 children and a background in Child Psychology, Positive Parenting Training and Child Development. She is incredibly passionate about giving children and young people the best chances possible.  To that end, her training is designed to inform, equip and support all those with a role in the lives of our amazing children and young people. Please see the attached flyer for further details (click link)

Further support for your child:
We will be hosting a virtual transition evening on Thursday 8th July.  More information on this to follow including useful information which is found in our welcome booklet which is below the key dates section. There will be the option after this event to make appointments with key members of staff if you have any further questions.
A dedicated year 7 only day at the start of the school year on Thursday 2nd September.  The following day will see just years 7 and 11 in school, giving your child lots of time and space to settle into their new environment.
We ask all year 6 families to complete the form below. This will confirm important details for our Moving Up Day and our Summer Camp (click link):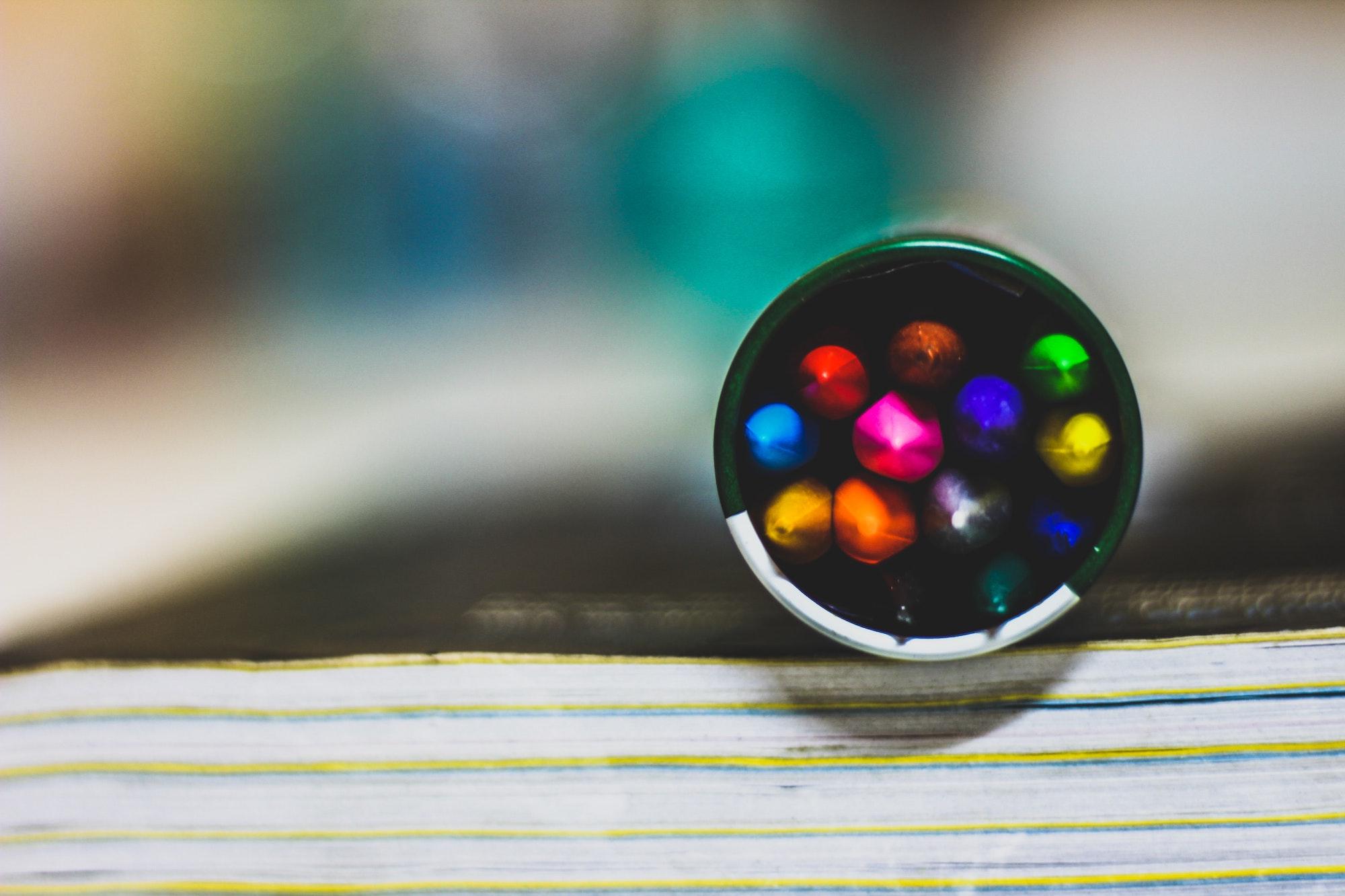 If you have any questions or concerns please do get in contact.
Yours faithfully,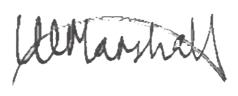 Kathryn Marshall and the Moving Up Team