We are so pleased do be able to open up the facilities and lettings at Noadswood for members of our community. You can view the information about what we have on offer, as well as use our online booking tool for your requirements.
---
Facilities Hire
Noadswood have a variety of facilities which can hired, as listed below:
Synthetic turf pitch
Sports field
Tennis courts
Netball courts
Basketball courts
Multi-use courts
Sports hall
Outdoor football pitch
Outdoor rugby pitch
Outdoor cricket strip
Outdoor volleyball courts
Athletics centre
Resource centre
Drama studio
Classrooms (generic)
Classrooms (art / technology / music)
School hall
IT suites
Conference room
---
Online Booking
Online booking is closed for the time being whilst undergoing renovation.  Please direct any queries via email to lettings@noadswood.hants.sch.uk
---
Pricing 2021/2022
There are two lettings prices (no difference between weekday/weekend) and these depend on the group who is requesting the facility.
Level 1 – adults / commercial price
Level 2 – community groups comprising of children under 18, the elderly or people with registered disabilities and registered youth groups. Level 2 has a 20% discount
Facility
Level 1
Level 2
Synthetic Turf Pitch
£55 per hour
£44 per hour

Multi-Use Games Area - 

Tennis Court
£12.50 per hour
£10 per hour

Multi-Use Games Area - 

Basketball Court
£12.50 per hour
£10 per hour

Multi-Use Games Area - 

Netball Court
£12.50 per hour
£10 per hour

Multi-Use Games Area - 

Whole Area
£40 per hour
£32 per hour
Outdoor Space - Athletics (subject to season)
£60 per hour
£48 per hour
Outdoor Space - Football Pitch (Adult)
£60 per hour
£48 per hour
Outdoor Space - Football Pitch (Junior)
£60 per hour
£48 per hour
Outdoor Space - Rugby Pitch (Adult)
£60 per hour
£48 per hour
Outdoor Space - Rugby Pitch (Junior)
£60 per hour
£48 per hour
Outdoor Space - Cricket Strip
£60 per hour
£48 per hour
Outdoor Space - Volleyball Court
£30 per hour
£24 per hour
Outdoor Space - Non-marked Area (School Holiday*)
£50 per hour
£40 per hour
| | | |
| --- | --- | --- |
| Facility | Level 1 | Level 2 |
| Sports Hall | £45 per hour | £36 per hour |
| Sports Hall - Badminton Court                   | £12.50 per hour | £10 per hour |
| Gymnasium - Floor Only | £45 per hour | £36 per hour |
| | | |
| --- | --- | --- |
| Facility | Level 1 | Level 2 |
| Conference Room | £25 per hour | £20 per hour |
| Classroom (Generic) | £15 per hour | £12 per hour |
| Classroom (Art / Food / Music)                  | £20 per hour       | £16 per hour |
| IT Suite | £25 per hour | £20 per hour |
| Resource Centre | £40 per hour | £32 per hour |
| Drama Studio | £40 per hour | £32 per hour |
| School Hall               | £40 per hour | £32 per hour |
---
Facilities - Information
Synthetic Turf Pitch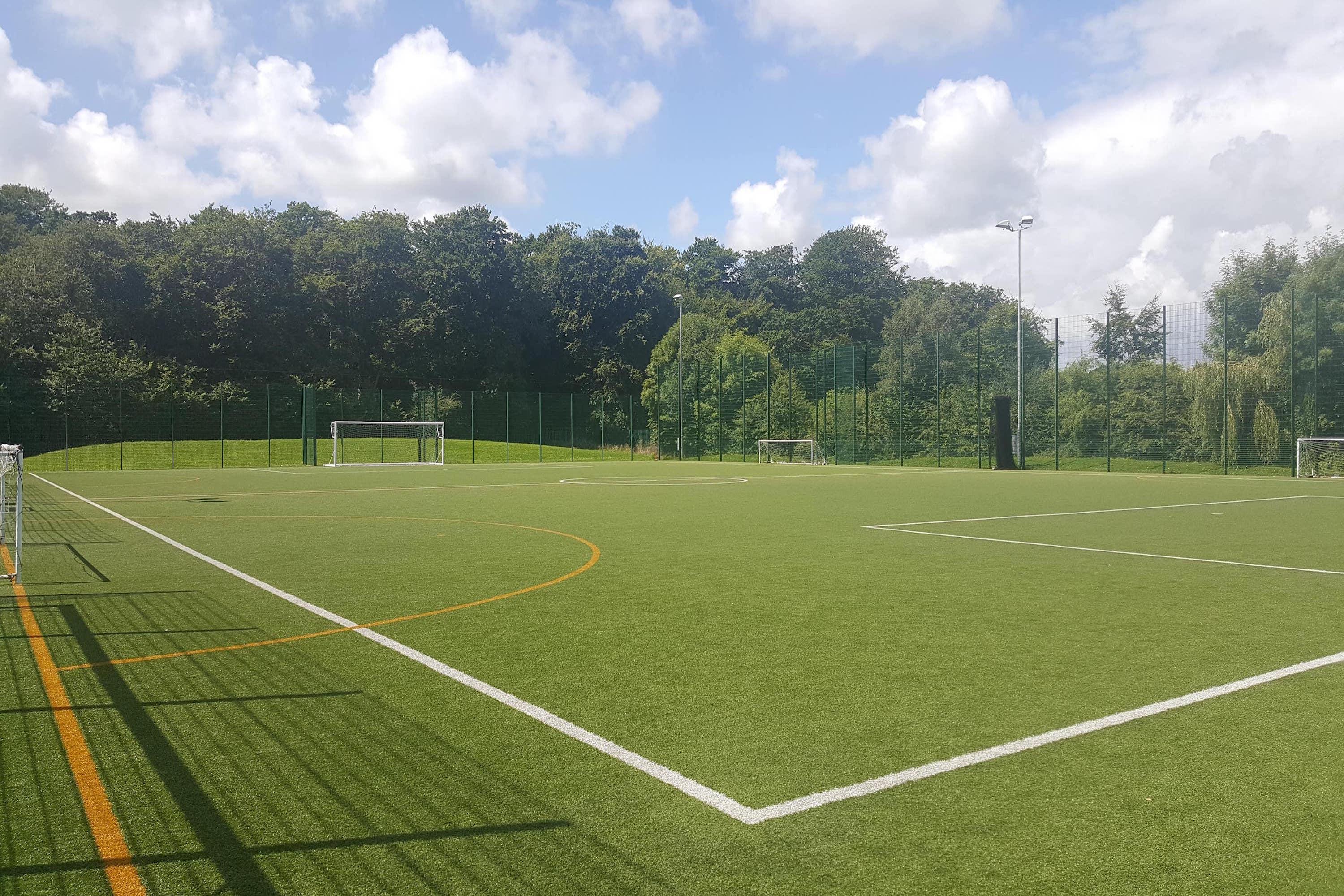 Our state of the art 60 x 40m 3G STP offers a high quality all weather playing surface all year round.  The facility allows the use of both the full size junior pitch or can be divided into two 5-a-side pitches across the pitch
Sports Hall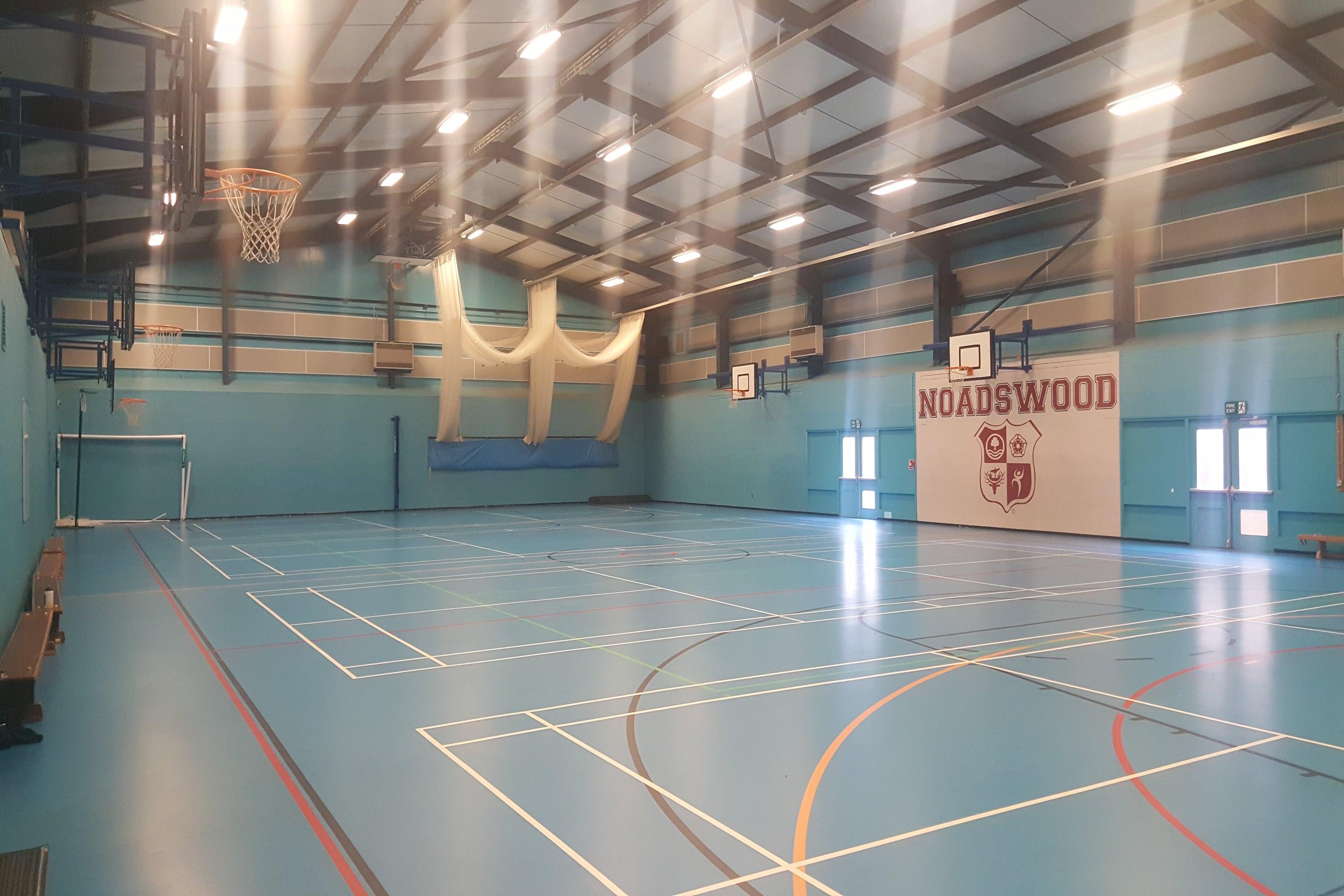 Our sports hall is an outstanding multi use indoor facility that offers a number of different options. The facility offers basketball with its electric backboards and rubberised floor and double lane cricket nets with the use of a bowling machine capable of bowling up to 90mph
Gymnasium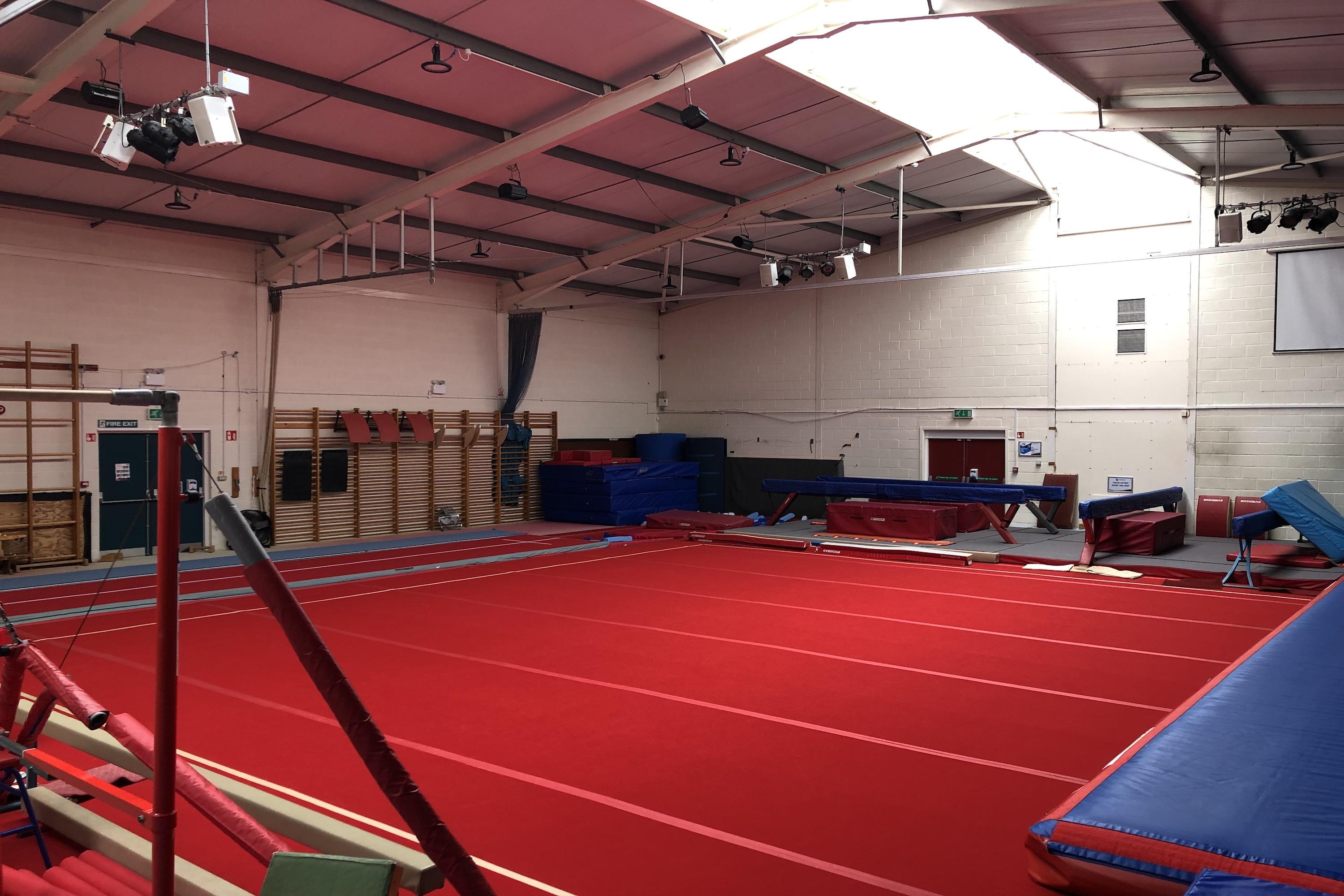 Out gymnasium is a fantastic facility with a unique floor for gymnastics / cheerleading etc... The facility has access to a 3.5mm sound system for routines. Booking of the facility is subject to only the floor - no gymnasium equipment within can be used with express permission from Noadswood due to insurance and health and safety purposes for other groups with use - namely Waterside Gymnastics Club
School Hall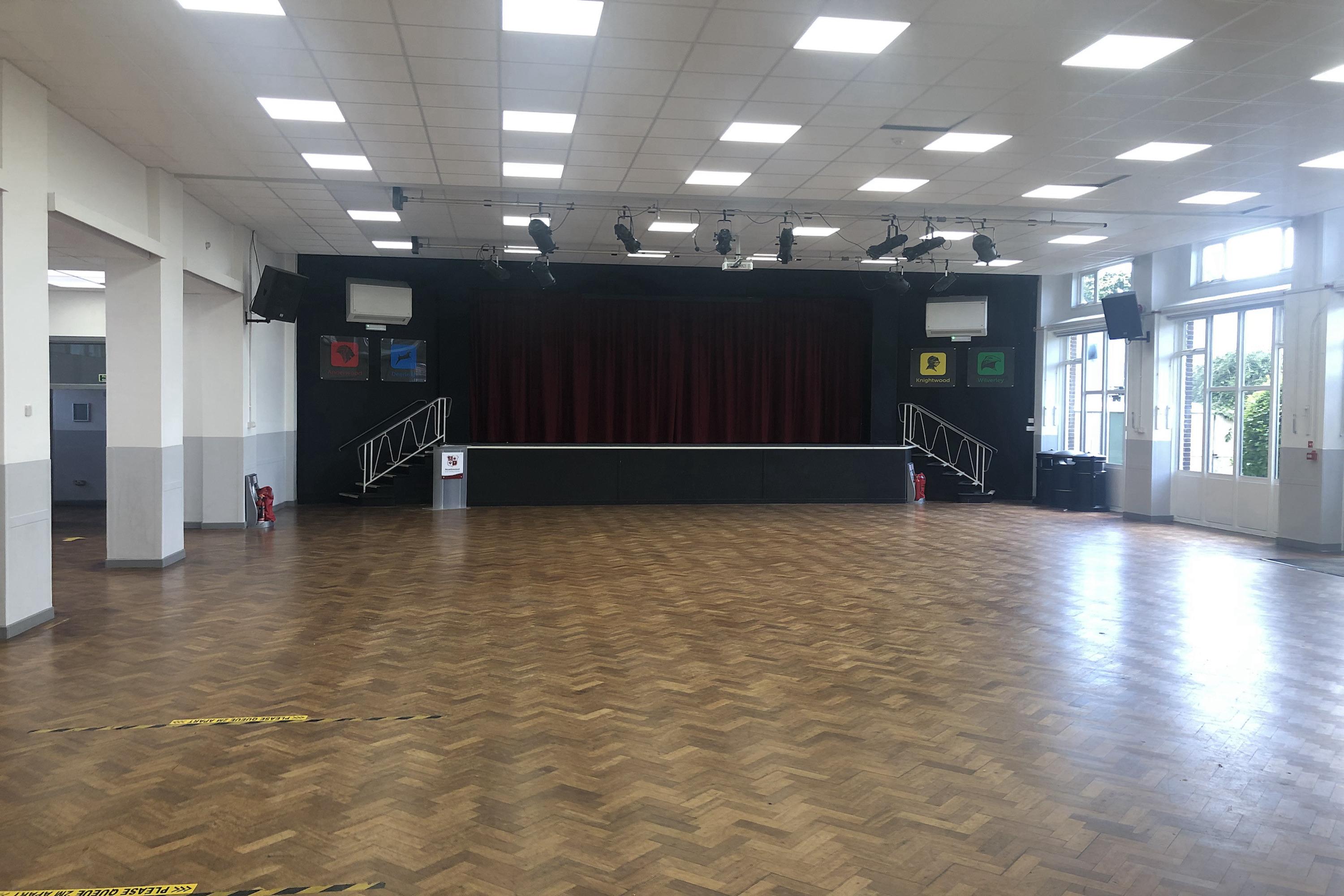 The School Hall is available for multipurpose use including dance classes, meetings and seminars
Conference Room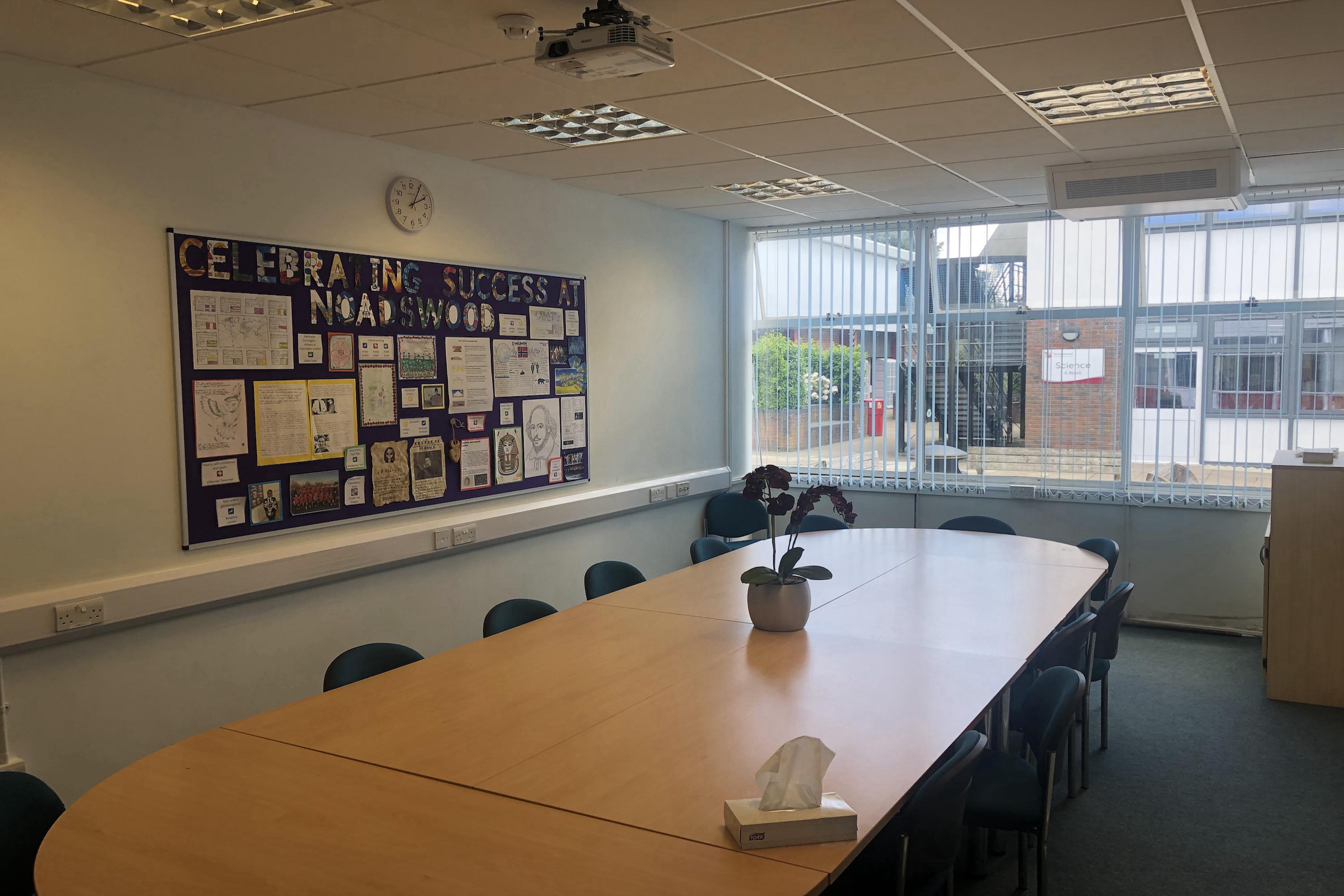 The Conference Room which seats up to 16 people is available as a perfect meeting space