Noadswood - Year 6 Welcome 2021
Welcome to our Year 6 welcome page for students joining us in September 2021 - we're so excited you'll be joining us, and can't wait to welcome you into our school. This page has lots of information about Noadswood, including messages from Noadswood staff, inspiration words from guest speakers, an introduction to the subjects and lessons at Noadswood, messages from our current Year 7 about their moving up journey from primary school to Noadswood and lots more...​​​​​​
Enjoy exploring the site, and we can't wait to see you in September!
---
September Start - Covid Update
Dear Parents and Carers,
 
As you may be aware, schools have been asked to conduct on site COVID tests twice with all pupils at the beginning of term in September. Your child's first test will be carried out on Wednesday 1st September and the location and timings for this can be found below. Pupils will not need to wear school uniform and can leave as soon as the test is administered, therefore parents may wish to wait in the car park. We will telephone you immediately should your child have a positive Lateral Flow Test and we will ask you to book a PCR test as soon as possible. For many students in Year 7 this may be their first COVID test, if this is the case, we would encourage you to do some home testing over the summer break to help prepare them for the experience.
7A1 CWH - Mrs White 1.00pm School hall  
7A2 MWO - Mr Wooster 1.15pm School hall  
7D1 HSH - Dr Shaw 1.30pm School hall  
7D2 TMA - Mrs Maughan 1.45pm School hall  
7K1 EGR - Miss Greenslade 2.00pm School hall  
7K2 WBU/CBL - Mrs Burnston/Mrs Blowers 2.15pm School hall 
7W1 EKI - Miss King 2.30pm School hall 
7W2 SCO - Miss Costa 2.45pm School hall 
Please follow the link below to provide us with your consent to carry out the lateral flow tests in accordance with the government guidance.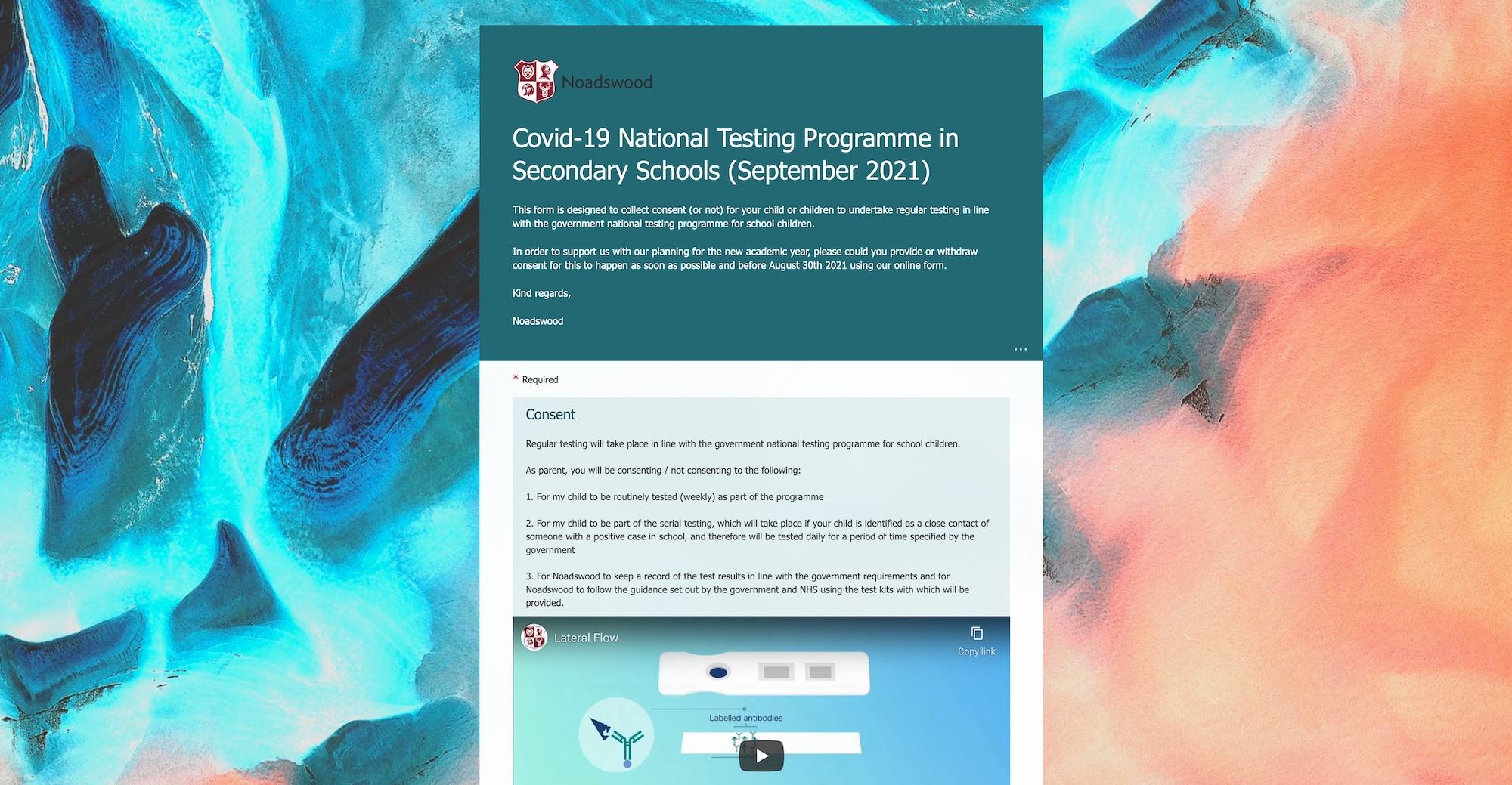 Wishing you all a safe and happy summer. We can't wait to see our new intake in September. 
Best Wishes
Stu Wilkinson
Year Leader, Year 7
---
Message from Miss Marshall - Headteacher
---
Key Dates
Please see the below details of our upcoming transition work with dates for your diaries:
Visiting your child at their school  
We have made arrangement to meet your children at their current school to answer any questions they may have and to let them know about our exciting plans for them- we can't wait to see them! We are also having meetings with their teachers to really get to know them prior to them joining the Noadswood family in September.  
Moving Up Day - Thursday 22nd July
We know that this year has not been easy for your children, but we are committed to ensuring that they feel supported and excited about joining the Noadswood family in September, we will therefore be having our moving up day before the end of the academic year. During this event we will be helping your child to get know our school and their tutor group as well as enjoying some lessons. We will be confirming your child's house and tutor group at the end of June.  Our Moving Up Day will be running, adhering to the following of safe processes in line with Government guidance re C-19 by the date of the events - if for any reason we cannot go ahead, we will let you know as soon as the information is made known to us and plan a virtual offer. We will be sending you further details of the logistics of these days after half term.  
Virtual Transition Evening- Thursday 8th July  
We will be hosting a virtual transition evening on Thursday 8th July.  More information on this to follow including useful information which is found in our welcome booklet which is below the key dates section.
Summer School                
Thank you to everyone who has contacted us with regards to this. We will be in touch with further details after half term.  Once more this event will be adhering to the most up-to-date guidance regarding Covid-19.
Term Dates  
Autumn Term 2021 
Wednesday 1st September 2021 – Friday 17th December 2021 
(Half term from Monday 25th October 2021 to Friday 29th October 2021) 
*Year 7 start Thursday 2nd September 2021
*Year 7 and 11 in Friday 3rd September 2021
*All Years in Monday 6th September 2021
Spring Term 2022 
Tuesday 4th January 2022 – Friday 8th April 2022 
(Half term from Monday 21st February 2022 to Friday 25th February 2022)  
Summer Term 2022 
Monday 25th April 2022 – Friday 22nd July 2022 
(Half term from Monday 30th May 2022 to Friday 3rd June 2022) 
Inset Days
Wednesday 1st September 2021
Friday 8th October 2021  
Monday 1st November 2021 
Tuesday 4th January 2022   
Friday 18th February 2022 
Monday 4th July 2022 
We know that moving up can feel daunting and we want to do all we can to help support this important transition.
There will be a dedicated year 7 only day on Thursday 2nd September 2021, they will then be joined by year 11 on the Friday with the rest of the school not joining until Monday 6th September.
---
Please click below to access our Welcome Booklet