Noadswood prides itself on being a caring and inclusive community in which students can thrive and develop, regardless of who they are, where they're from or what their abilities are. 
We want all of our students to make excellent progress, both in their studies and their academic attainment but also in their much wider and broader development. 
With this in mind then, we want to ensure that all students are provided with:
A culture that supports their emotional well-being 
Mutual respect in a happy and safe community 
Outstanding teachers and staff who support and enable academic success
Opportunities to follow their passions, whatever they may be, through a wide range of extracurricular opportunities 
Noadswood wants to make sure that the funding we receive is used to support our most vulnerable students whilst at the same time, ensuring high quality provision for all. 
​We want all our students to feel safe and happy coming to school and want Noadswood to be a place that students want to attend. We know that attendance can be a major barrier to well-being, progress and outcomes. We are committed then, to working closely with our attendance officer and pastoral team to break down these barriers. We will use the funding to support students' attendance, being creative and innovative in how the funding available can be used to make Noadswood the place that students need it to be. 
We want to make sure that our curriculum and the teaching and learning that takes place within the classroom, meets the needs of all of our students and ensures that additional support is put in place for those who need it most. 
We also use the funding to support a wider range of strategies that you can see outlined in our statement below. You will note that some of the funding is used not solely for those identified as Pupil Premium but for any students who may be facing other disadvantages and need additional support, such as support with their emotional health and well-being for example. 
Should you wish to discuss anything at regarding our pupil premium funding or your child's entitlement, please contact our Assistant Headteacher, Mrs Helen Loveday. 
---
The key challenges were the things we identified last year as our focus so it makes sense to reflect on this (as I will be doing when I do the next statement). I think this would be OK for anyone to see that we have reflected back on the last year and can also kinda see the things we still want to work on this year? 
Our pupil premium statement for the academic year 2022 - 2023 will be published in the Autumn Term. 
Our strategy statement for 2021 - 2022 (which can be found by clicking here) outlines our use of the pupil premium and recovery premium. 
Each of our key challenges were addressed through the use of this funding:
Attendance of disadvantage students 
We will continue to work with our disadvantaged students and their attendance to school. Our disadvantaged attendance figure remained consistent throughout the year, and we saw several individual examples of students who overcame barriers to attendance. We have increased capacity within our pastoral team and as a result of this, have been able to increase our home visits to students who are struggling to attend school. 
Progress and outcomes for disadvantage students, particularly in English and Maths. 
The national 2022 examination results saw a widening of the gap between disadvantaged students and those who are not. We know that the ongoing effect of the pandemic continues to be a challenge for all schools to overcome and we have implemented a robust system of additional tuition, extra 1:1 support (both academically and emotional and well-being) to ensure we are actively working to close this gap. We saw individual successes both for students and department areas but recognise this will continue to be an area of focus in the 2022 - 2023 year. 

We have used some of this funding to provide additional resources into department areas, allowing them to deliver their curriculum in the most appropriate way for all students, including those who are disadvantaged. This has included buying subject related equipment and resources, equipping each department with additional teaching resources and providing opportunities for various external speakers and/workshops/activities to be run. 
Increase in the mental health and well-being needs of all students.

We have increased the number of trained ELSA staff from 1 to 3, with a 4th colleague in place by December 2022. This has meant that significantly more pupils have been able to access this bespoke 1:1 support throughout the year and reduced our waiting lists. We have also worked, and will continue to work with, the local Mental Health Support Team, referring students who have very specific mental health needs. 

We continue to work with Go Fish Mentoring company who deliver 1:1 mentoring sessions to students in KS4. 

We have also appointed a Senior Mental Health Lead from within the existing pastoral team and this work will be embedded in the 2022 - 2023 academic year. 

We have increased our capacity across the safeguarding team with all non-teaching pastoral support colleagues now being deputy DSL trained. 

We have increased the provision of our school counsellor who now works an additional day, meaning that more students are able to access this support. 

Ensuring that all staff have appropriate CPD which reflects the specific academic and well-being need of our students. 
All staff at Noadswood have experienced an excellent breadth of professional development this year with targeted training around our disadvantaged students. This includes but is not limited to speakers such as Amjad Ali, Lorraine Lee, Jeffery Boakye, Kate Jones, John Tomsett and Mike Armiger. 
All of these sessions have focused staff on the key focus areas of our curriculum provision and planning those who are disadvantaged in any way. 
Ensuring a curriculum provision which fully reflects the needs of our disadvantaged students and allows them to make progress and outcomes which reflects their needs. 
From our department curriculums, through to additional tutoring, the literacy interventions and the development of both our Flexible and Alternative Provision programmes, students are able to make progress in all areas of their school life, regardless of their academic ability or any disadvantage they may face. 
A number of our disadvantaged students accessed an alternative curriculum pathway, either through our own curriculum offer or through our partnerships with local colleges and other providers. 
---
Pupil premium strategy statement: Noadswood 2021 - 2022
The Pupil Premium Strategy Statement can be found via the link below (click here) which also includes information about our Covid catch-up premium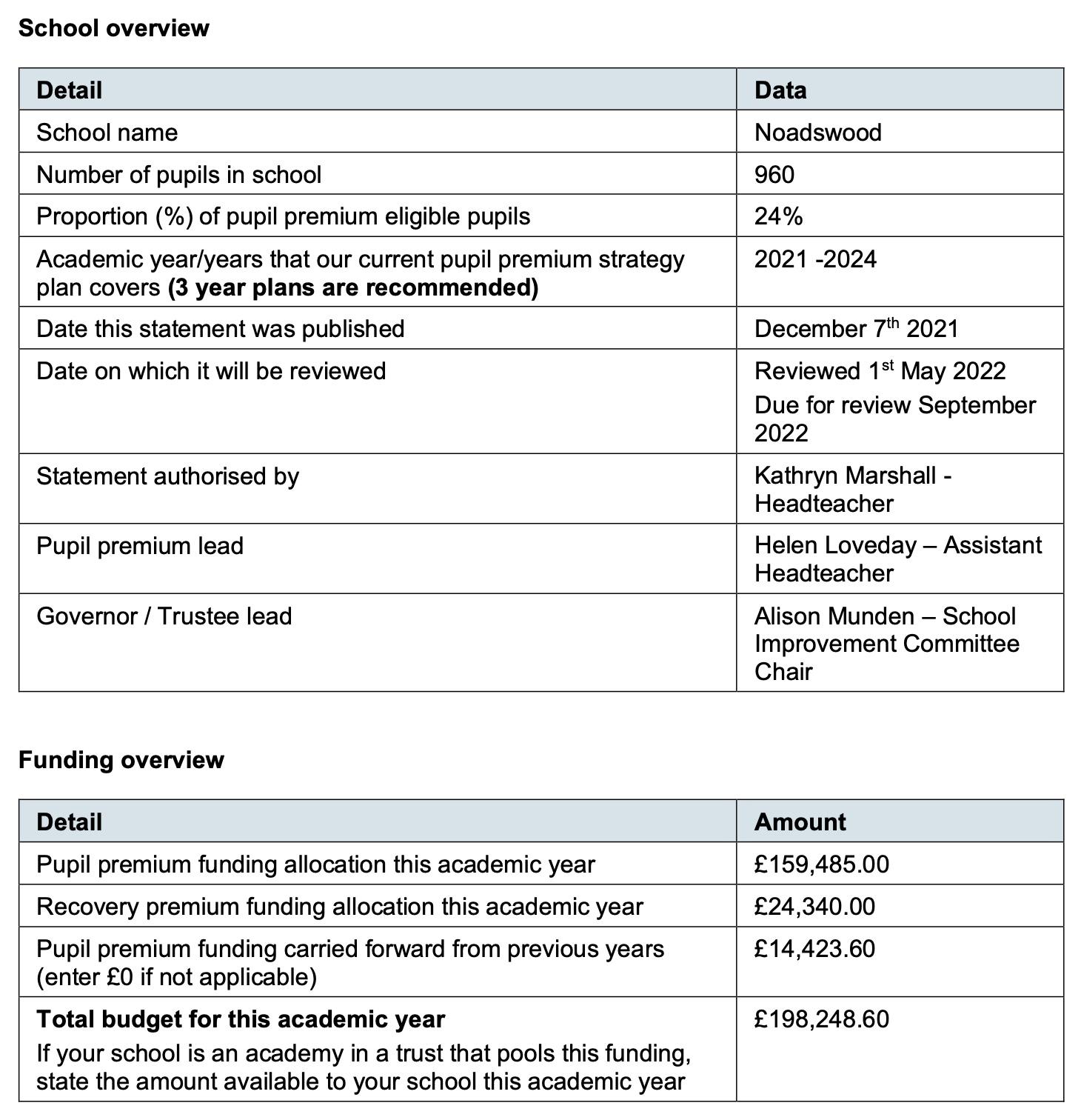 ---
Year 7 Literacy and Numeracy Catch Up Pupil Premium: 2019 – 2020
The Year 7 Literacy and Numeracy Catch Up Pupil Premium Grant was allocated to school by the DFE. Both maintained schools and academies are able to spend the grant for the educational benefit for pupils registered at that school or on community facilities, for example services where the provision furthers any charitable purpose for the benefit of pupils at the school or their families, or people who live or work in the school's locality.
In 2019 – 2020, the grant received to Noadswood totalled £9,068.00
We have used the grant in a number of ways including:
Year 7 Homework club:
A daily homework club running from Monday – Thursday, staffed by Year 10 pupils and overseen by Noadswood staff.
A Home/school spelling programme:
A weekly teacher led spelling programme which works on overcoming barriers to spelling success. Identified staff work with individual students on a home/school spelling programme.
Catch up literacy programme:
A 3 x a week literacy programme run during tutor time by identified Learning Support Assistants. Students attend these sessions completing reading and comprehension programmes/activities.
Toe to Toe phonics programme:
A 4 x a week phonics programme to improve reading and literacy accuracy.
Peer reading programme:
Delivered and run by our Learning Support team and helped by our Year 10 and 11 prefects, the peer reading programme provides books and other materials for the weekly peer reading sessions.
Spelling workshops:
A 3 weekly tutor time programme delivered by our Learning Support team. Using the Visual Spelling Programme, students attend sessions designed to improve their spelling ages.
Wave 3 interventions
Whilst in Year 7, some students have additional time to develop their literacy skills. This means they spend slightly less time in their Language lessons. These sessions are delivered by our specialist Learning Support Assistant and take place for two intensive sessions a week.
Transition programmes
We have a close working relationship with our feeder primary schools and work collaboratively with them on a number of projects throughout each transition year. This includes visits to each primary school by our dedicated transition lead, STEM and themed literacy activities hosted by Noadswood. This year, 2019 – 2020, we also worked collaboratively with our cluster secondary schools to run a virtual inspirational event with guest speaker, mountaineer Mollie Hughes.
Due to the National lockdown, some of these activities were impacted, however all year 7 students were contacted weekly during the lockdown period with students and parents/carers provided with additional virtual advice and support where needed. Our VLE was also updated weekly with additional literacy materials.