Attainment 2020
2020 has been a very strange year for our students with the exam process drastically changing for Year 11. The last few years have been incredibly successful for our students, and though the grades for 2019/2020 were teacher assess grades we feel that the scores given to our students really merited their hard work and ambitions and show the continued success of Noadswood.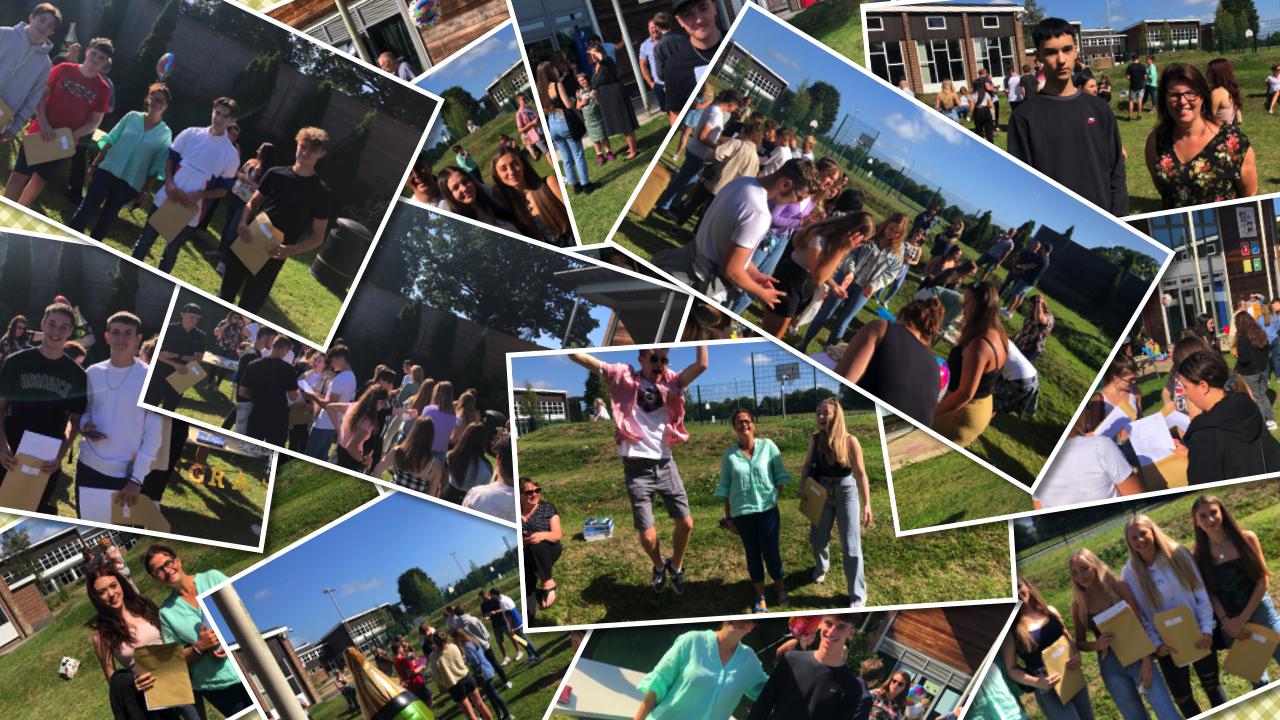 ---
Measures
77% of students achieved a 9-4 (pass) in English and Maths
57% of students achieved a 9-5 (strong pass) in English and Maths
78% of students achieved 2x GCSEs in Science (9-4 (pass))
Attainment 8 score predicted at 53
Progress 8 score predicted at 0.07
EBacc entry - 14%
EBacc achieved - 14%
Students staying in education or employment after KS4 (destinations) - 95% (Ofsted link)
---
We are so pleased for so many of our students and the success they have gained. Results day was so pleasing, knowing so many of our hard working students were off to begin their next stage in their journey, be that colleges, apprenticeships or work placements. We had so many success stories, with a select few below who were high attainers and those who excelled against their personal targets: Charlotte Bridges, Claire Holloway, Harry Manuel, Faye Ridler, Ellis Quinn, Natalya Smith, Lily Williams, Hayley Piercey, Marcus Round, Jack Newcomb, Morgan Randall, Tom Scott and Hannah King amongst many others.
Congratulations to everyone - you've made us so proud
---
Subject Success
Art - 89% achieved a 9-4 and 78% achieved a 9-5
Art and Design - 100% achieved a pass at Level 2 or above
Child Development - 100% achieved a pass at Level 2 or above
Computer Science - 97% achieved a 9-4 and 78% achieved a 9-5
Dance - 100% achieved a pass at Level 2 or above
Design and Technology - 59% achieved a 9-4 and 46% achieved a 9-5
Drama - 75% achieved a 9-4 and 61% achieved a 9-5
English Language - 88% achieved a 9-4 and 68% achieved a 9-5
English Literature - 81% achieved a 9-4 and 64% achieved a 9-5
Food Preparation and Nutrition - 76% achieved a 9-4 and 66% achieved a 9-5
Geography - 75% achieved a 9-4 and 54% achieved a 9-5
History - 78% achieved a 9-4 and 65% achieved a 9-5
Mathematics - 79% achieved a 9-4 and 62% achieved a 9-5
Mathematics (Statistics) - 100% achieved a 9-4 and 100% achieved a 9-5
Media Studies - 80% achieved a 9-4 and 68% achieved a 9-5
MFL French - 96% achieved a 9-4 and 69% achieved a 9-5
MFL German - 100% achieved a 9-4 and 100% achieved a 9-5
Music - 100% achieved a 9-4 and 91% achieved a 9-5
Music (BTEC) - 100% achieved a pass at Level 2 or above
PE - 96% achieved a 9-4 and 88% achieved a 9-5
Science Biology - 100% achieved a 9-4 and 98% achieved a 9-5
Science Chemistry - 100% achieved a 9-4 and 100% achieved a 9-5
Science Physics - 100% achieved a 9-4 and 100% achieved a 9-5
Science Combined - 75% achieved a 9-4 and 56% achieved a 9-5
---
---
Year 11 Class of 2019/2020
GCSE certificates for students who left us in summer 2020 are now available. We still plan to host a farewell leavers celebration for the Year 11 class of 2019/2020 in the new year and would love to hand them out then during a celebration event 🤞😷
If you require them with more urgency please email: exams@noadswood.hants.sch.uk for details about when and how you can collect including coming onto site in a Covid safe way and appropriate ID for nominated individuals to collect on your behalf 👏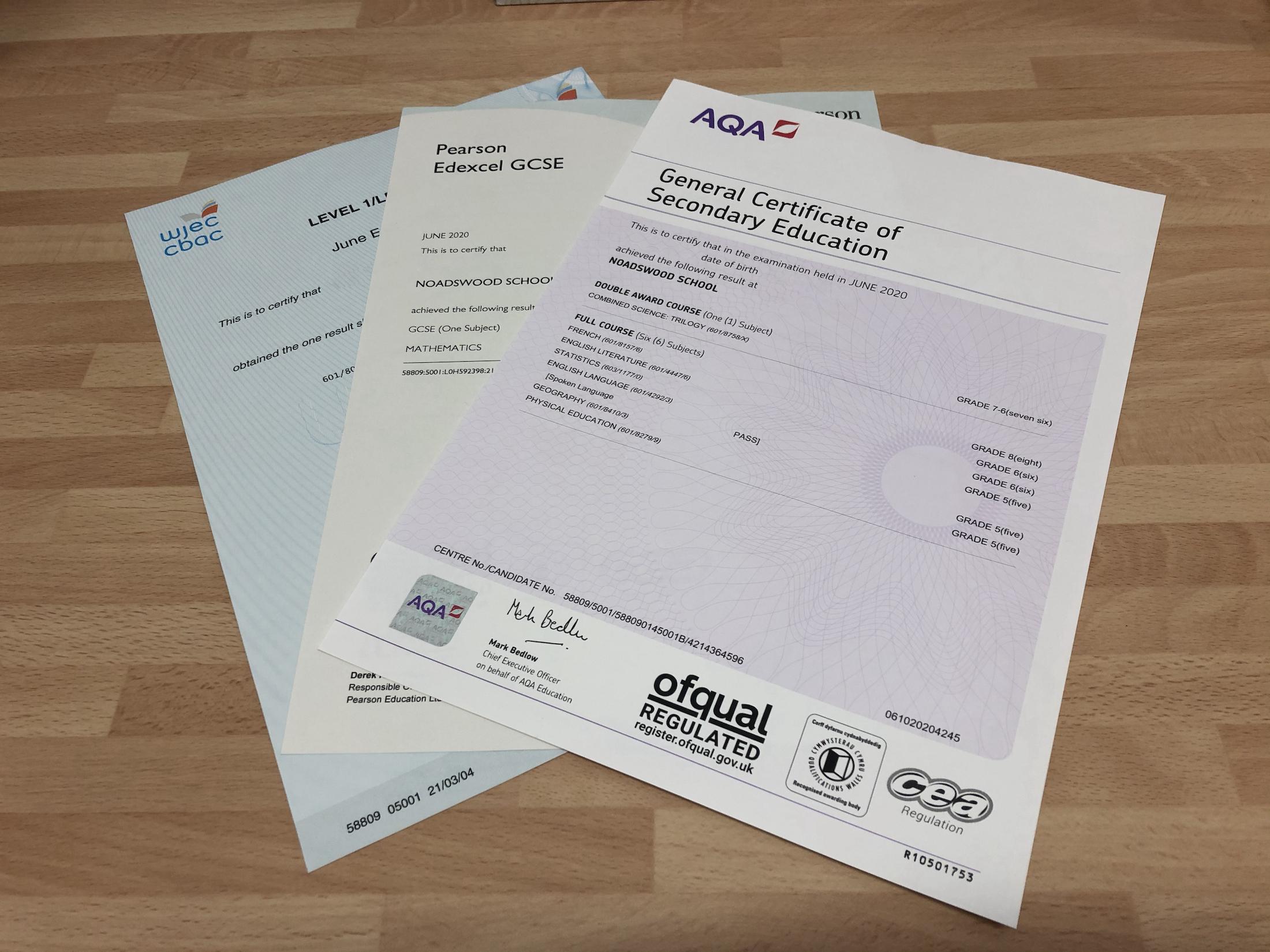 ---