Uniform
---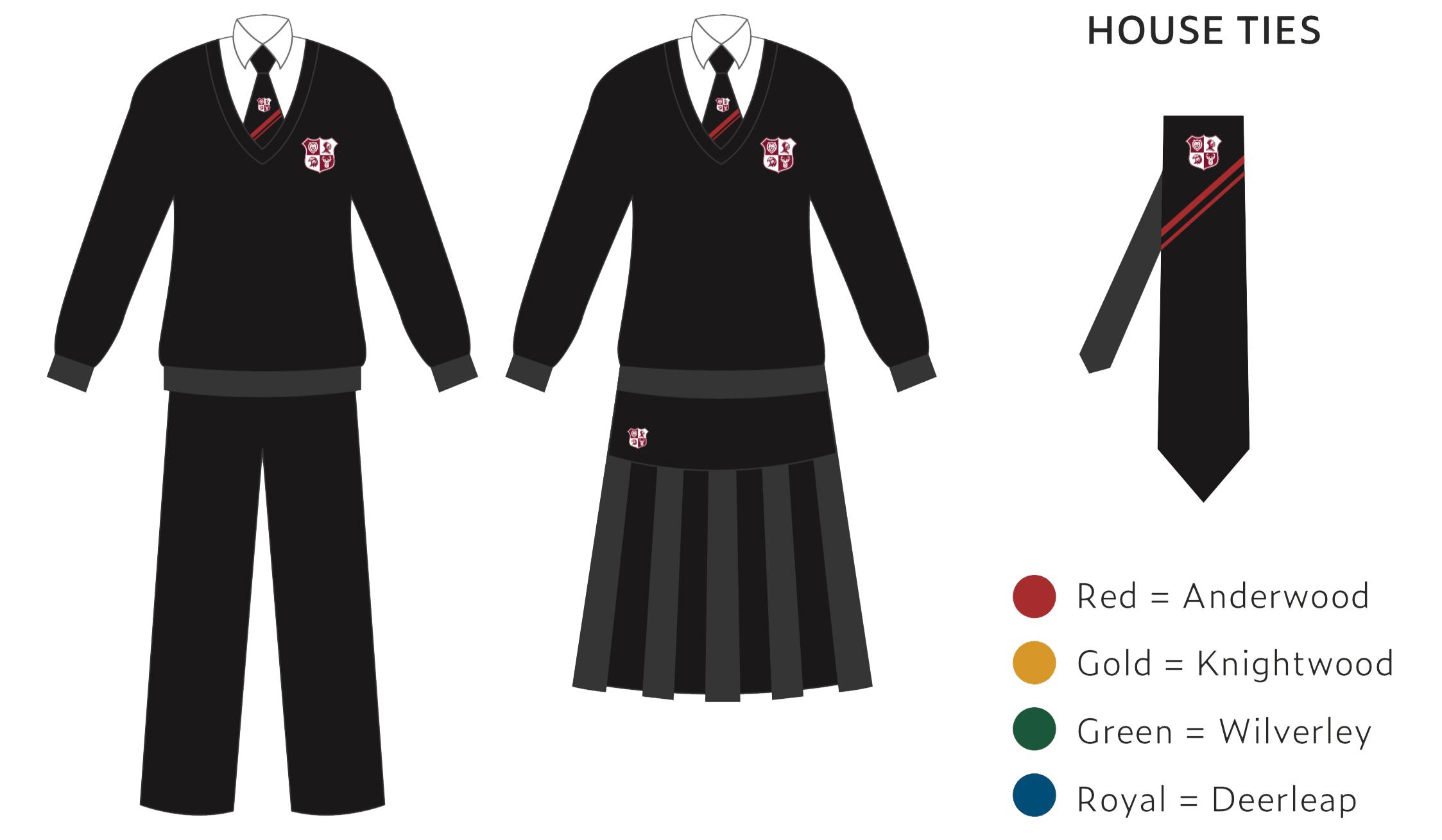 Black v-neck jumper with Noadswood logo
All Year 7 should have a black v-neck jumper with the Noadswood logo. No hoodies or zip up jumpers to be worn.
Black Noadswood Blazer *Years 8-11 only as being phased out from September 2021
All students in Years 8-11 should wear either the black v-neck jumper with Noadswood logo, or a black blazer with the Noadswood logo on the pocket. Students may also choose to wear both the jumper and blazer. No hoodies or zip up jumpers to be worn.
Plain white shirt
Plain white shirt with a collar and either short or long sleeved. No t-shirts. 
Tie
Noadswood school tie with the coloured stripes of your House (prefects may wear the Noadswood prefect tie) 
Black trousers 
Plain black, tailored, loose fitting trousers. No jeans, skinny trousers or corded type trousers. 
Skirt
If you choose to wear a skirt, we ask that all Year 7 wear the Noadswood school skirt. This is available from Skoolkit and is embroidered with the Noadswood badge. For students in years 8–11, we know that you may already have a school skirt. We ask that when you replace this skirt, you do so with the Noadswood skirt embroidered with the badge as above. All skirts should be black and knee length. Skirts should not be rolled up at any time. 
Shoes
Formal leather style, plain black shoes. No trainers, boots, canvas shoes, sport style shoes or sports brand logos on shoes.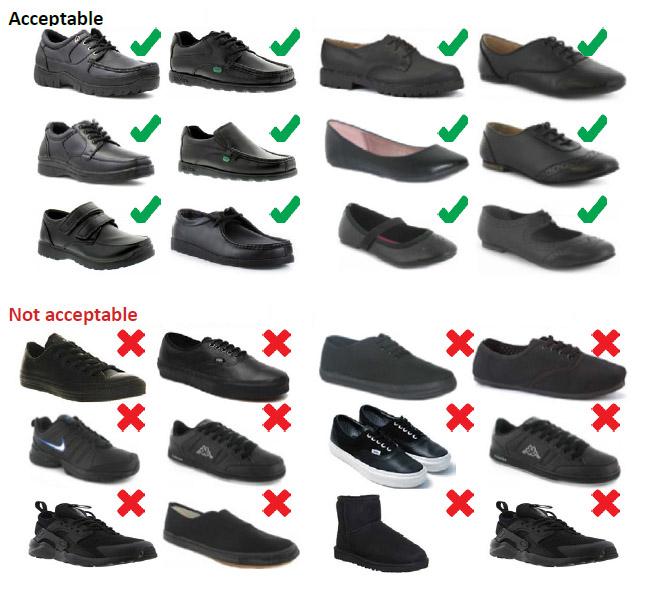 Outer coat 
Coats to be worn on top of the school blazer. No denim jackets, leather coats or sport jumpers/hoodies with our without zips.
---
PE Specific Uniform
All years: school rugby shirt, plain black shorts, knee-length red socks, training shoes. Years 7, 8 and 9: plain white t-shirt or white polo shirt with the Noadswood badge. Years 10 and 11: black polo shirt with Noadswood badge. The infographic below will hopefully help with regards to the footwear for PE. We ask parents to purchase boots that are suitable for our astro AND field. Please use the image below as a visual reference.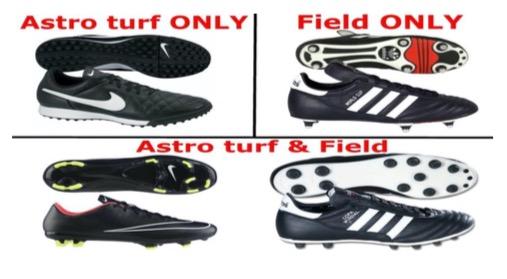 ---
Jewellery
No jewellery other than a pair of small stud earrings in the lower lobe of the ear.  A wrist watch or medical alert can be worn. No other piercings are permitted. 
---
Equipment
We would also like to take this opportunity to remind you that you will also need to bring your own stationery equipment - particularly important this year due to the Covid-19 pandemic. We will not be able to lend equipment to students. We will have a small stationery shop on site in which you can purchase basic items, but do what you can to get yourself kitted out.
We ask that you bring your own:
Pen x2

Pencil

Rubber

Sharpener

Ruler

Scientific calculator
We also recommend that you bring your own glue stick and small pair of scissors. Subject departments will have a very small number of these items which can be used in classrooms but if you are able to bring your own, this will be really helpful.
---
Message from Mrs Dossett - 2021 Onwards
---
Lockers
ILS provides lockers for Noadswood School students. The lockers are owned by ILS and are available for students to rent on an annual basis. Rental costs are £45 per year allowing use from September through to July.
Please note all bookings terminate at the end of the school year in July. We apologise but there is no discount for lockers booked late in the year.
The locker size is as follows:
Height:  595mm
Width:   300mm
Depth:   450mm
To guarantee a locker please book online at our website www.ilsschools.co.uk 
Please note we are a separate entity from the school and all dealings will be directly with ourselves.