Dear Parent/Carer, 
We are delighted to offer your child the opportunity to take part in a virtual conference organised and led by 'PeaceJam' on Saturday 13th November 2021. PeaceJam is a charity that works with us and with schools from around the country (and indeed in many other countries!), liaising with international Nobel Peace Prize winners and inspirational speakers, to inspire the young people of today, to make a difference.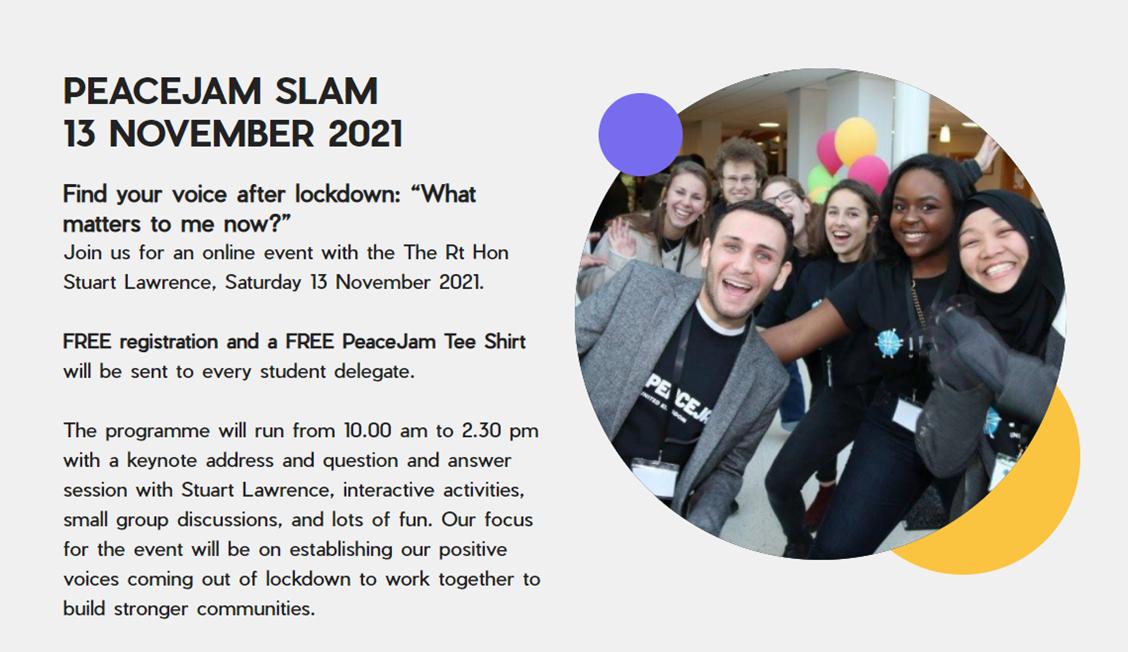 This conference is fronted by The Right Honorable Stuart Lawrence, brother of Stephen Lawrence, the teenager who was murdered in a racially motivated attack, who has dedicated his life to building strong, undivided communities. You may be aware that ITV are currently airing a drama series based on the Stephen Lawrence case, which was central to the progress of racial equality in our country.  
This is an amazing opportunity for our students to widen their perspectives in life, discussing a range of issues with teenagers from different regions and backgrounds, which should help them to develop as active global citizens. The conference will be particularly useful for students in year 9, as they embark on their GCSE Citizenship course.  It promises to be a highly interesting, thought- provoking day, with fun activities and virtual workshops, around the topic of, 'establishing our positive voices coming out of lockdown to work together to build stronger communities'.  
It will be run in a computer room in school by Mrs Sullivan and Mrs Blowers, from 09:30 until 15:00. Each registered student will receive a free PeaceJam T-shirt. Please reply by Friday 15th October 2021, to indicate parental permission is given for your child to attend.  
On the day, you will need to provide a packed lunch for your child.  
We are really looking forward to the day and hope that your child can join us.