Parents and Carers Letter: 22/11/2020
This update includes:
Highlights from your children's and our staff's last few weeks together
Safe driving/parking near the school site
'Ready, Respectful, Safe' – key words for the next four weeks
Where to read the latest Government guidance
The next parent discussion group on Noadswood's risk management work
Thank you - Year 7 parent / tutor virtual meetings
Year 11 reports, virtual parents' evening, after school revision, video guides
Year 7-10 reports
Your Parent/Staff Association's work this term
Wellbeing work in our school
Christmas Card Competition winners
Highlights:
It has been INCREDIBLE to see so many of your children working incredibly hard, making superb effort and continuing to adapt to the ways we have to work currently on and around the school site so well and responsibly.
I could choose so many highlights, but I will go for these in this particular update:
Fantastic Year 7s and 8s at our Hot Choc Monday and Friday breaktime get togethers. These children have been nominated for their superb efforts since we returned in September. Every week, I tell them this, and they look pleased, but let's all be extra appreciative of them and all the other many, many students who have managed to be consistently upbeat and their best selves since the start of term – this is particularly impressive in our current context.
Cross Country – all of your children who got out there and pounded our school's cross country route get a big cheer from me.
Mrs Smith's Year 10 Child Development class I visited last week – what a focused, committed bunch of girls these are, and thank you, Lucy, for sharing your work with me.
Mrs Hockings' Year 8 French group – I want to thank the vast majority of you for the hard work you are doing and the efforts you are making. When you don't find something easy, but you give it your all, again you get a big cheer from me.
The attitude and approach of Year 11 has been massively noticed and appreciated by me and us all. Of course, occasionally, one or two have glitches and 'moments', but the overwhelming spirit of this year group has been something of which we are all really proud.
Miss Rawlinson's Year 10 History group – if they carry on responding to the care and focus of the teaching they are receiving in the way they were doing when I popped in the other day, they will do really well.
Year 7 and 8 entrants in to our Christmas Card Competition – more on that later

😊

Our Wellbeing Ambassadors and our Head Boy and Girl's commitments to making our school the best it can be, even within restricted circumstances. We know all of our senior team can't wait to get on board with more activities, too, and we look forward to more as the year goes on.
Tom, Harry, Aaron, James, Ollie, Ollie, Jack, Tom, Callum Adam, Brandon, Bailey and Josh in Year 11were mentioned to me by Mrs Blowers a couple of weeks ago, who she noted for being great 'role models' when she was on duty. They were playing football on the basketball courts and when she had to ask them to stop (the courts aren't suitable for football in the weather conditions we now have), they were initially irritated at no kickabout!
But they then played a great game of Handball. They put the irritation behind them, played really well together and were very respectful and positive about the whole thing.
You might think this response should go without needing a mention, but we do recognise the way so many of your children are making our unusual arrangements work by putting aside the small stuff, and making the very best of all the opportunities we do have.
The class and staff who supported Christian in Year 7 when he wasn't well at all in class, just before half term (nothing to do with C-19, I hasten to add). The children and colleagues were so supportive. They all wanted to help at the time and sent cards and messages to wish him well. When he returned to school, they checked in on him. This is our Noadswood family at its best.
My last highlight for this letter is the group of Year 7s who were singing, Last Christmas… in their tutor base on Friday morning. I know it was only November 20th, but, for me, this year more than ever, it's never too early for a bit of festivity, well sung

😊

.
---
Safe driving and parking near the school site:
We have asked, since we fully reopened in September, if parents/carers would mind parking a little further away from the school site to help support social distancing at the various entrances/exits.
The other reason for this request is, of course, to alleviate jams and risks to children and adults alike with so many cars around on Water Lane in particular.
We have not seen any significant reduction in traffic, and, in fact, we have seen several instances of the jam prompting vehicles to reverse over the verge on Water Lane, school side, churning up the grass, and almost ending up on the pavement.
I have liaised with Councillors about the situation and there are moves afoot to try to address this but I do not think this will necessarily be happening quickly.
We are all fortunate there hasn't been an accident – if you can do your bit by parking a little further away, you will be doing your bit to keep your children and everyone else's safe – thank you in advance if you can help.
---
Ready, Respectful, Safe
As I have said above, many students are impressing us all day, every day. Your children in Years 10 and 8 will also be able to tell you about assemblies I have led with the House Leaders, with socially distanced groups of them, to celebrate all that but also to give some key reminders:
They must respect their environment, especially the rooms in which they spend breaks and lunchtimes. Specifically, litter needs to be placed in bins, desks need to be wiped down if food is spilt, and chairs/stools need to be put back from where they are moved to enable the children to socialise during free time.
I am sure these sound basic to you – they do to me, too. Perhaps you would speak to your children about these basics?
A fabulous team of colleagues step up every day to do break and lunch duties, and the Leadership Team patrol the site tirelessly to supervise. But our ranks are split across two lots of breaks and two lots of lunches, so we need to be able to depend on your children not turning classrooms in to messy playgrounds that they then need to learn in directly afterwards.
Please may we ask for your support?
The children need to remain in a room during breaks and lunchtimes, and not rush about throughout their zone. For one, that's 'messy playground' behaviours again, but secondly, it ups the number of 'contacts' they will have had should we need to do 'contact tracing' for a confirmed case of C-19 in the days and weeks ahead.
Every day, without exception, someone emails health@ to say they or their children have symptoms that could be C-19, so at any time, this 'contact tracing' info could be needed. We would need to ask more people to self-isolate than would typically be needed if your child has legged it about, between several or all of the rooms in their zone at break or lunchtime, adding a whole host of extra contacts to themselves!
Please would you reinforce this with your children?
Face coverings are now being worn with far greater consistency by those who are able to, and I would like to thank students and adults alike for this.
Please ask your children to continue with these efforts to remember and comply with this feature of the guidance.
We are all in this together, doing our best with what, as educators, we can only take to be the correct medical, scientific guidance that is out there, and we do depend on positive, whole community support.
We are and I am meeting with individuals about the reminders above, taking their time with such conversations and putting in restorative conversations and sometimes sanctions when required, but I am keen to ensure this remains with just a very few people - with your support that will remain the case.
Wearing our uniform correctly is a sign of being in the right frame of mind for learning, for showing self - respect and for being professional in school. There also safety reasons for our rules around piercings.
Those of you who have written to us saying there have been inconsistencies around some features of our policy have made us reflect carefully on those areas and make plans to pull this back in fairness to all.
Piercings: As you are aware our uniform rules state clearly that the only piercing allowed is one pair of studs in the lower lobe of the ear (please refer to the newsletter from 23rd October)
We are very keen to get back on track with this and with the current lockdown in place, there are obviously no opportunities to get any new piercings at present.
So, from this point on, please can we be clear that we do not expect any of our students to be getting any piercings, other than the lower lobe, which could possibly mean this rule would be broken.
This will mean that by January 2021, any new piercings that have occurred before lockdown will be healed enough to be removed completely for the school day.
In the meantime any that are not healed enough MUST be covered with a plaster and those students needing to do this may get a pass giving permission from their House Leader (Guidance).
The last thing we want to be doing is having conversations with students or you about any of this going forwards, when we have so much to support the students with and so much good to focus on.
If you have any questions about this, please contact your children's House Leaders or Mrs Dossett.
The school jumper: Thank you for your support with the introduction of this - we think it looks really smart. However, we'd like you to remind your children, as we do, that tucking this into the waistband of skirts or trousers is not something that is allowed, and neither is rolling skirts up – something you often contact us about, too.
We do take pride in our uniform at Noadswood and would really appreciate your support in these respects. There will be more to follow as Mrs Dossett and the team continue to consider all aspects of our policy closely.
All of the above items relate to our commitment to three concepts that are real winners in all of school life and that we discussed a great deal with the students pre-C-19: Being ready for school life, being respectful of yourself and others throughout the day and being safe.
---
Latest Government guidance with respect to C-19 arrangements and risk management:
If you are minded to bring yourself up to date with the guidance we are working to since the lockdown commenced on Thursday November 5th 2020, you can do so via the link below:

If anything jumps out at you, or you have a suggestion or query, do not hesitate to email us at health@noadswood.hants.sch.uk
Mr Crowley, Mrs Loveday and I continue to monitor this email address with terrific support then from Reception/Attendance colleagues and House Leaders; whilst not wanting to be proud before a fall, I think the response of this community to managing all of the issues around presenting symptoms, self-isolation and all aspects of possible and confirmed cases of C-19 has been superb, I honestly do – that is down to you and I am extremely grateful.
Please drop a mail to info@noadswood.hants.sch.uk or to Mr Hewitt or your children's House Leaders (Learning) if your child has experienced the curriculum on offer via our self isolating in 2020 home learning page on Frog. Is your child able to engage with the learning and then slip back in to the learning with his/her classmates when they return to school? Do you or they have any other thoughts? We would always welcome your feedback.
---
The next parent discussion group on Noadswood's risk management work
If you would like to join me to discuss our risk management work, and to provide your thoughts and suggestions with respect to next term, I will be holding a second meeting of the group that met before on:
Tuesday 8th December 2020 6.30pm over Zoom.
If you are interested in joining us for an hour, please email me at health@noadswood.hants.sch.uk
Everyone is welcome – you don't need any specific expertise in health and safety, just a view of how things have been from yours and your children's perspectives, and a wish to help will do!
---
Year 7 Tutor/Parent 'Meetings':
Thank you to Year 7 parents and staff for the successful Tutor/Parent 'meetings' over Teams last week.  I hope you found these as useful as colleagues did. It felt as though the technology served us well, and did not let us down, and so we will be rolling out other events via the same system in the near future – my thanks to Mr Wells and Mr Moody for their fantastic IT support.
---
Year 11 updates:
Well done to those Year 11s who have joined their teachers for after school clinics, catch ups and revision time – we are working on this in a carefully targeted way to ensure your sons/daughters get the support they need right across their curriculum over time. We know the students who have attended have been benefiting from and enjoying the sessions – if you have any questions on this provision, don't hesitate to ePraise message your child's House Leader (Learning) or Mr Crowley.
Further information for you for now:
Year 11 reports are being generated and will help with college applications. These will be released before the virtual parents' evening booking window opens next Friday 27/11/2020. More details will come out shortly.
We are also in the process of producing some video guides about supporting your child at GCSE, including on the all important focus areas of Vision, Effort, Systems, Practice, Attitude – again more details will follow with key information being place on our GCSE Support page:
In the meantime, when you are talking to your children, remind them of the V-E-S-P-A areas of their working lives they need to focus on to give of their best throughout this year, as per the picture below taken from the VESPA website: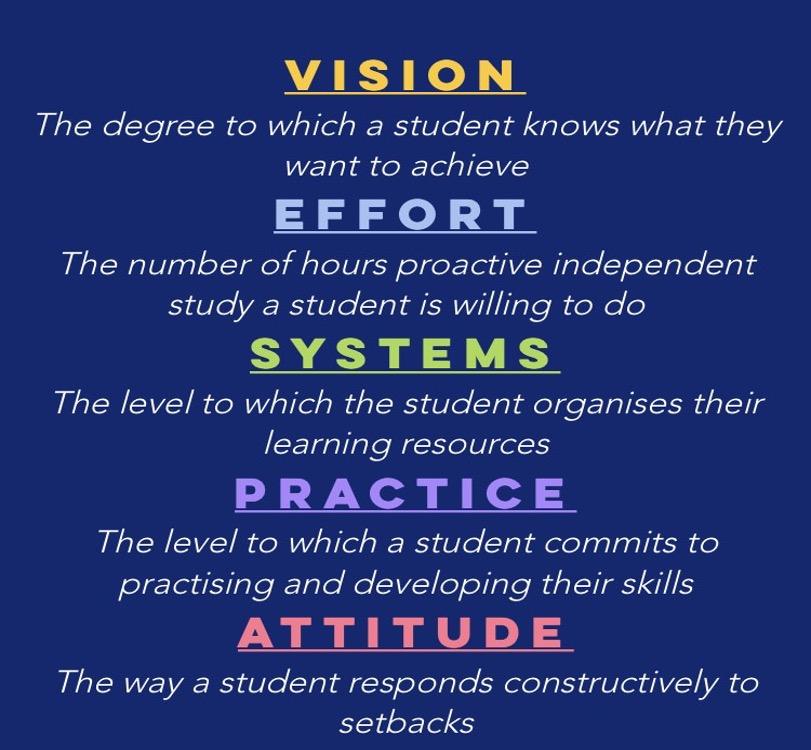 If you think your child would benefit from some specific support with one of these areas, drop a message to your child's House Leader or to Mrs Rollett who oversees our work on V-E-S-P-A at Noadswood.
---
Year 7-10 Reports:
These will be available on 14th December 2020.
---
Your Parent/Staff Association's work this term:
Your PSA has had a busy term working virtually and welcoming new members. The meetings we have over Zoom are – honestly – some of my very favourite to attend, and I am thankful to Claire Blowers for taking the Chair, as well as to the entire fantastic group for their work, energy and good humour, too.
They are formulating plans about how to fundraise and work on behalf of the Noadswood family in a covid safe way. Alongside our longer term goal of our community garden we will also be working hard this year to help fundraise on behalf of our Head Boy and Head Girl projects. These projects see us working on an environmental project and one to improve our bike sheds with head boy Harvey, as well as working with our head girl Annie on her virtual peer mentoring project.
The PSA also want me to pass on a huge thank you to all of the Noadswood family who donated to our Bags2School drop off. These will be collected on Monday and we will be communicating with you shortly as to the final amount raised.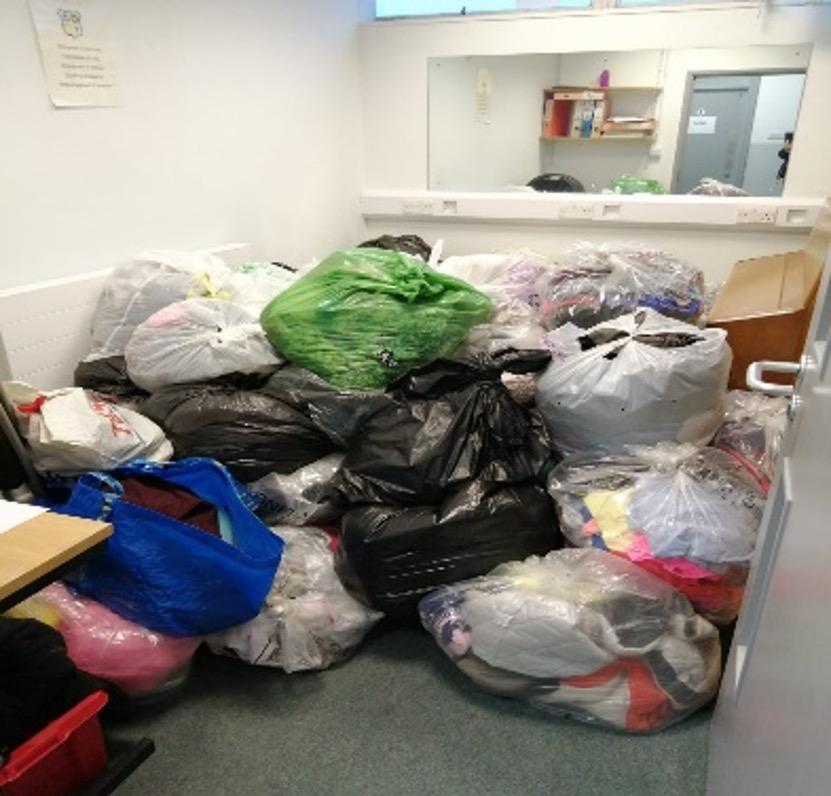 We'd like to thank families and local businesses for donating to our Reverse Advent. We'd like to give a special shout out to Tesco in Hythe and Morrisons and Asda in Totton who have given us lots of goodies to include.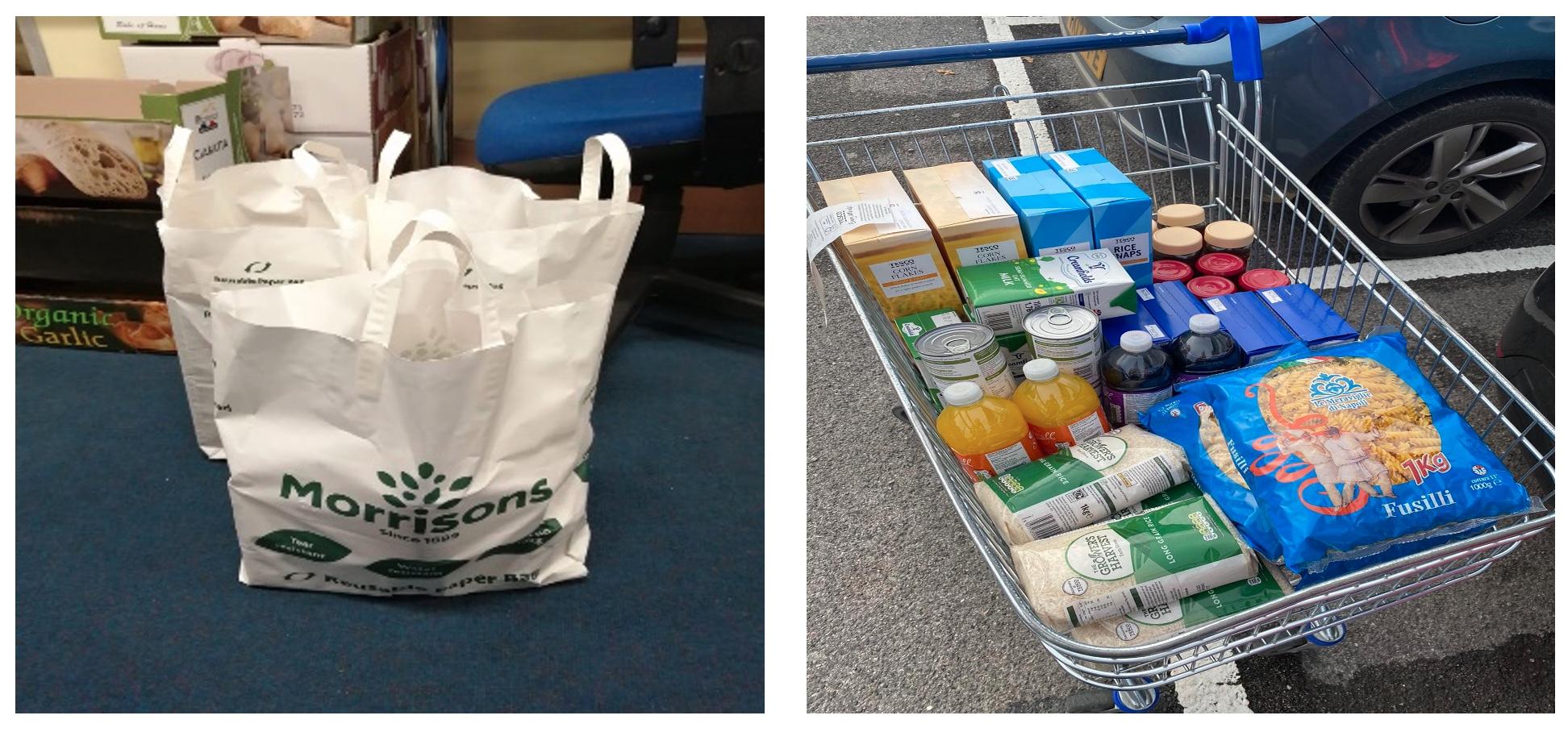 If you would still like your child to donate, the list of what can be donated is below and they can donate via their tutors: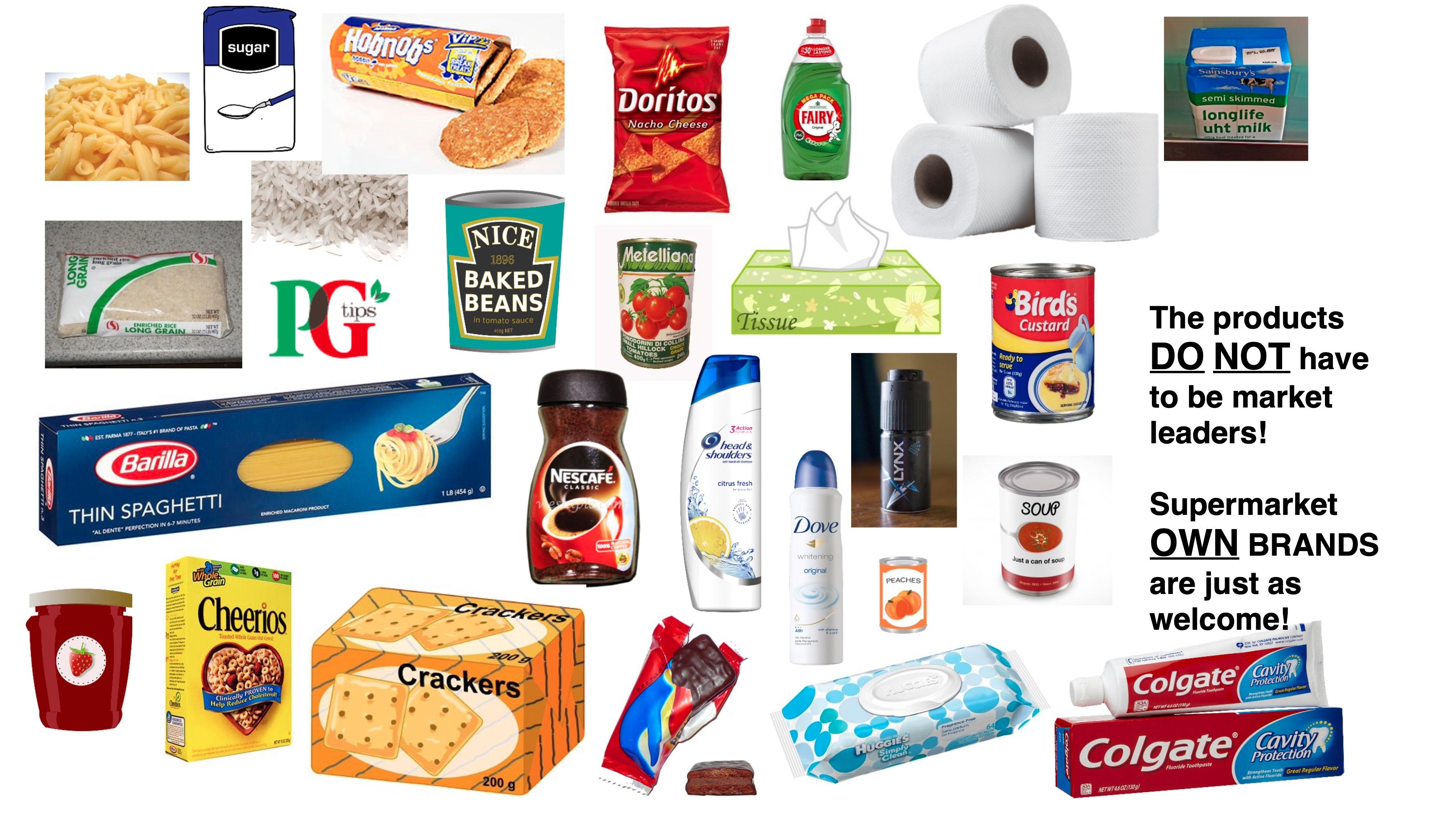 In addition to this we will be running a Christmas raffle- thank you so much to all of our families who have contributed to this. We also have plans in the pipeline to support local businesses and to run a virtual Christmas Market. More details to follow. Thank you all for your time, support and ideas, if you are in any way involved with our PSA or you've helped with one of the projects above - we're really proud of what we have all achieved together to support our children and community.
---
Wellbeing work in our school:
Our commitment to supporting your child's wellbeing as well as possible in school continues with the Wellbeing Ambassadors getting to work, supported by Miss Fitzgerald, following their training pre-C-19. Their photos are now proudly displayed in the corridor and they have several projects underway.
Our ELSA, Miss Harwood, continues to work with her caseload, and also via year group specific drop ins, and via ePraise messaging, on Wednesdays-Fridays with the schedule for drop ins as below: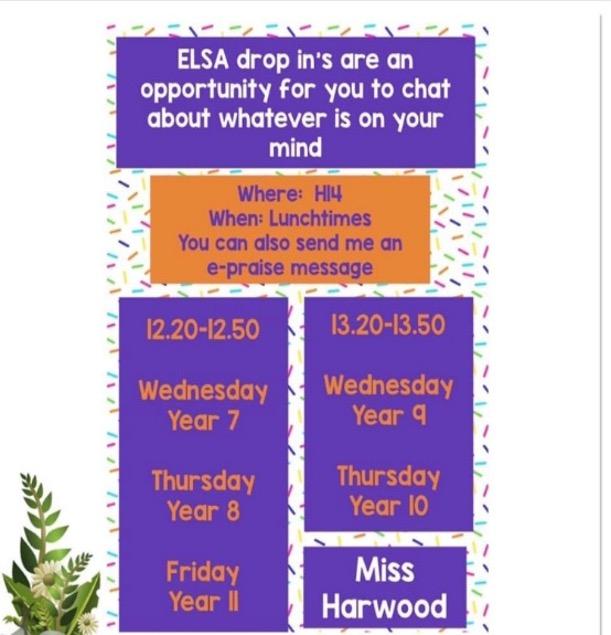 She is also supporting New Forest Young Carers in working with our students, as well as keeping our Memory Garden group going, to support those who've been bereaved, via bespoke support the group members have requested. If you would like your child to become involved with this work, just drop Miss Harwood a message by ePraise.
We also have the support of a counsellor, Mrs Maskall, every Tuesday in school.
If you or your children have any worries about their wellbeing, how ever small it may seem, please make sure that you approach someone. The House Leaders and the children's tutors are there to listen and to be on hand to help throughout the week, as well as to signpost to the other support we offer and to our online Wellbeing Portal (click link).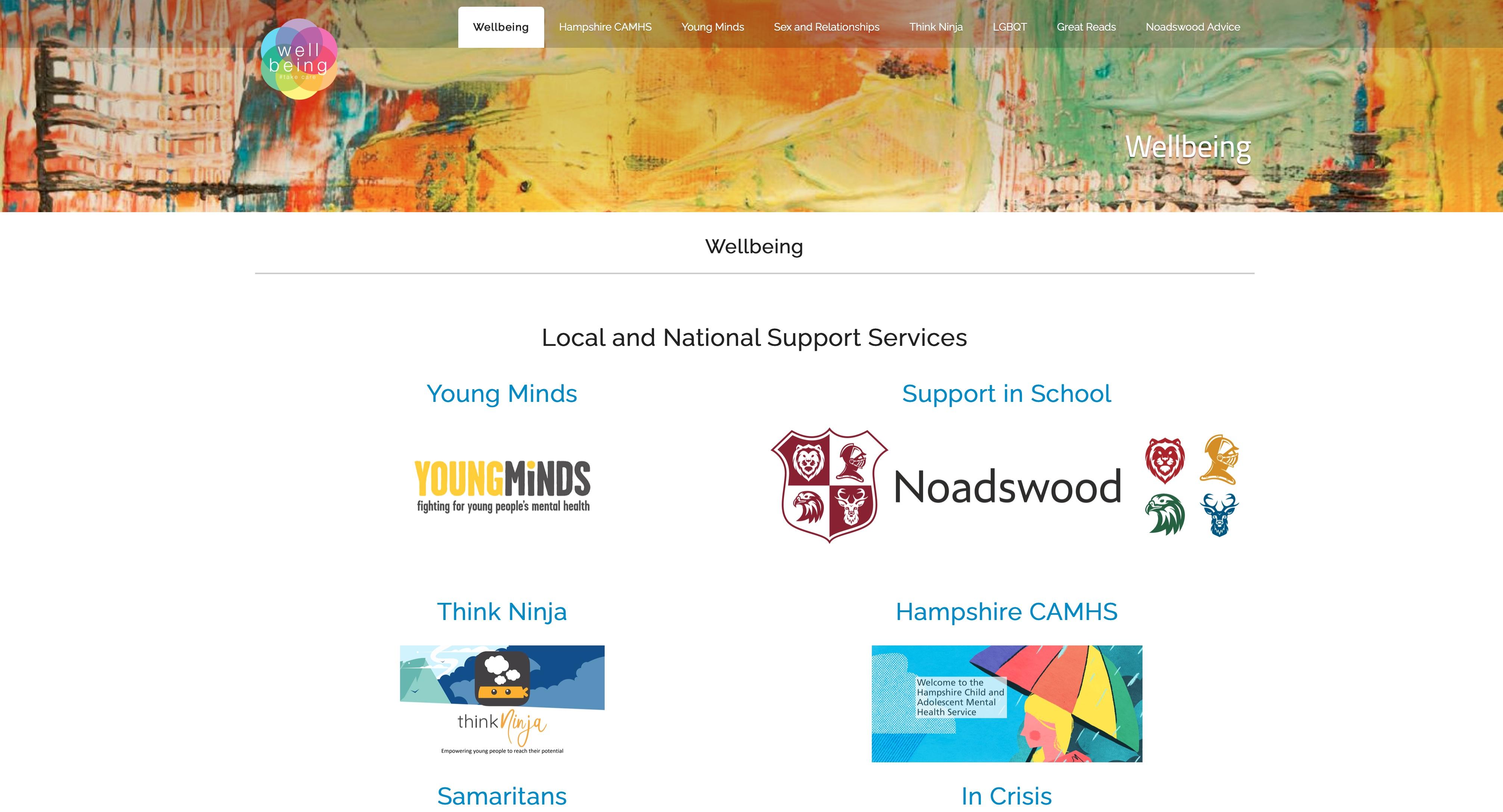 Don't wait and hope things will improve, or wonder if anyone will want to hear or whether speaking up will make things worse – we will work carefully, gradually and sensitively with you and your children, even when things are really difficult, always looking to overcome even what seem to be the most insurmountable situations that can arise.
---
Christmas Card Competition Winners:
The House Leaders, Mrs Loveday and I are thrilled with all of the entries – everyone who entered has received 25 ePraise points.
The winning cards are on the photo below, and I will arrange for the students who have done this super work to meet me for Hot Choc, cake and a prize before the end of term – thank you all for giving us such joy.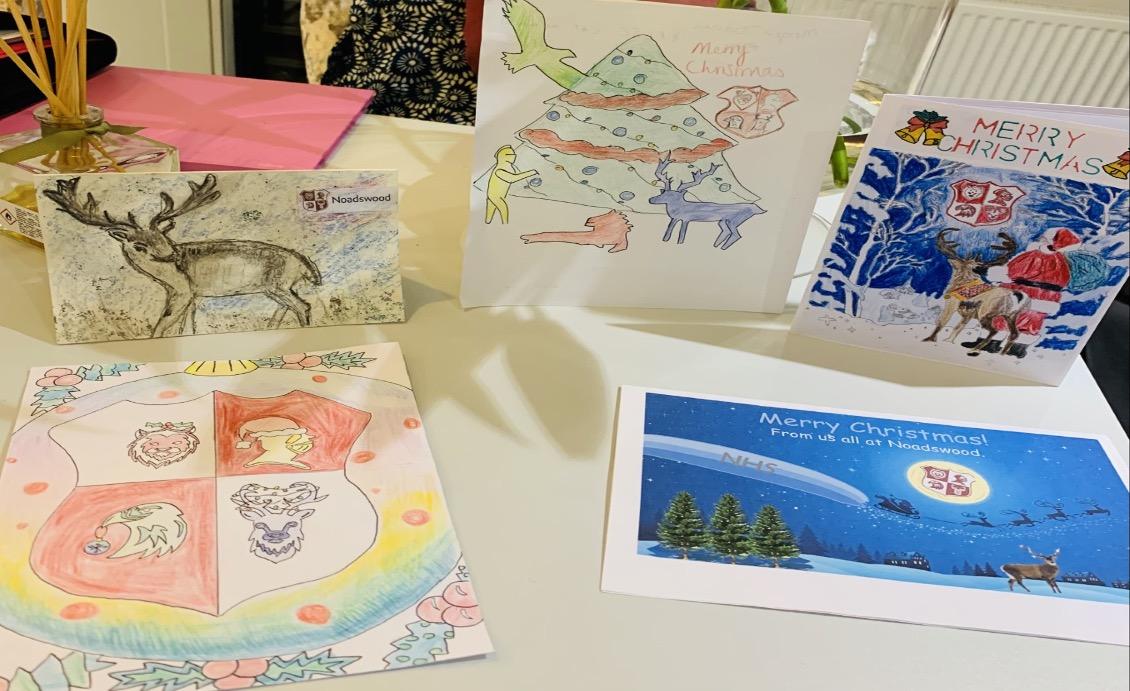 Should you wish to comment or ask a question about the contents of this letter or any other aspect of school life, please do not hesitate to drop me an ePraise message or an email to headteacher@noadswood.hants.sch.uk
With my thanks for all of your continued support and communication, and wishing you all well,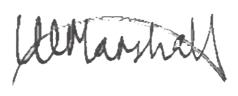 Kathryn Marshall and the Noadswood Leadership Team