Attitudinal Information
The reports produced consist of three teacher inputs:
Effort
Behaviour
Learning beyond the classroom (encompassing homework / revision undertaken / reading around the subject etc...)
The attitudinal data is graded with the following criteria: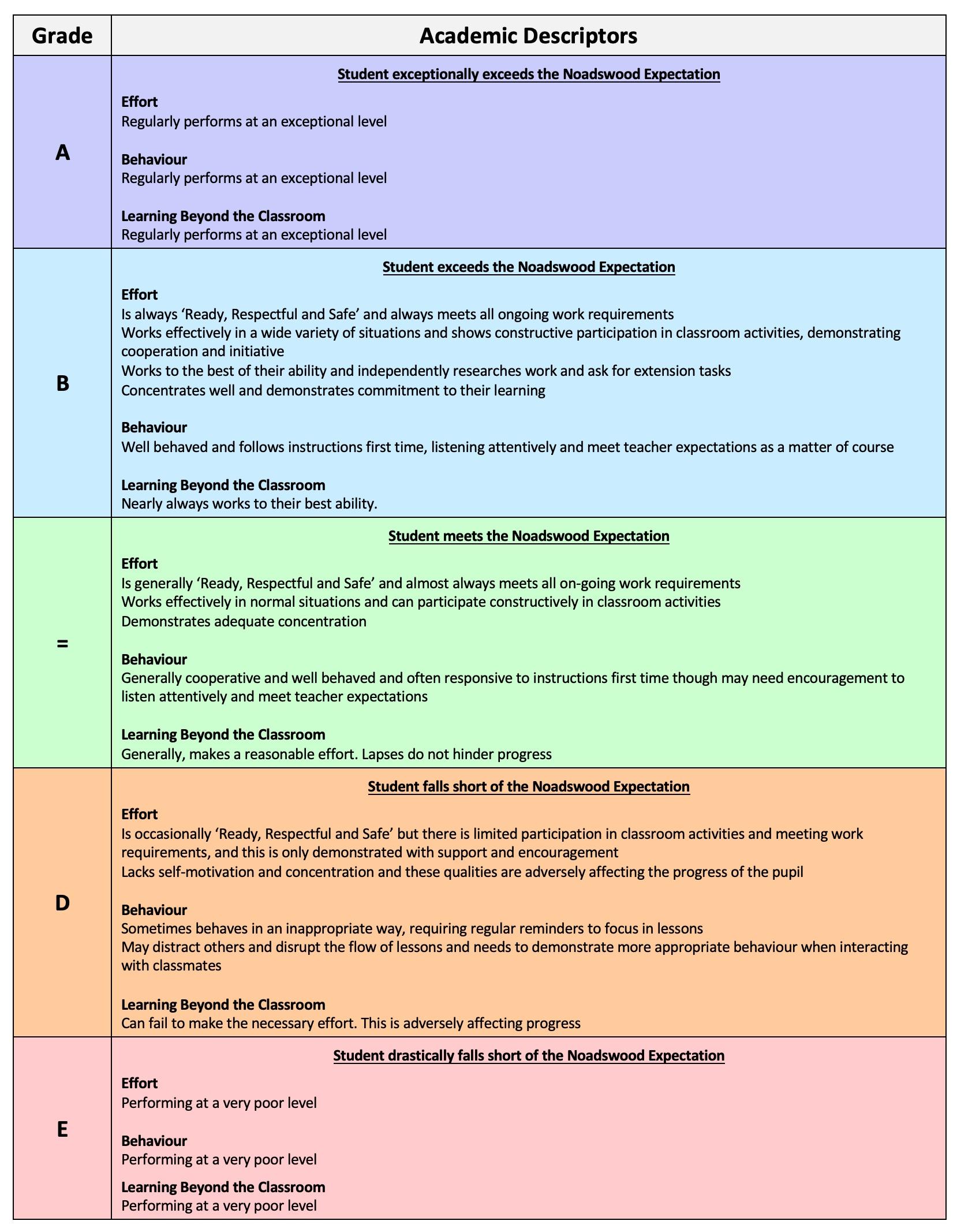 ---
Academic Information
The key part to the report is the "Expected Progress in Subject" column - this will inform you if the class teacher believes your child is MAKING or ABOVE the expected progress they should currently be making, and if they are projected to attain their target grade on or above this expectation (highlighted green). If you child is not making the expected progress they'll marked as BELOW making the progress expected of them (highlighted pink).
The reports also include the class identifier for the subject (many Key Stage 3 classes have shared teachers). If any attitudinal or academic fields on your child's report are blank this may be because your child has not been present for long enough for an accurate assessment to have been made by the class teacher or the teacher has a specific reason for leaving it empty. If you or your child are in any doubt as to why this may be, please contact the teacher or Team Leader via ePraise or our contact page (click link).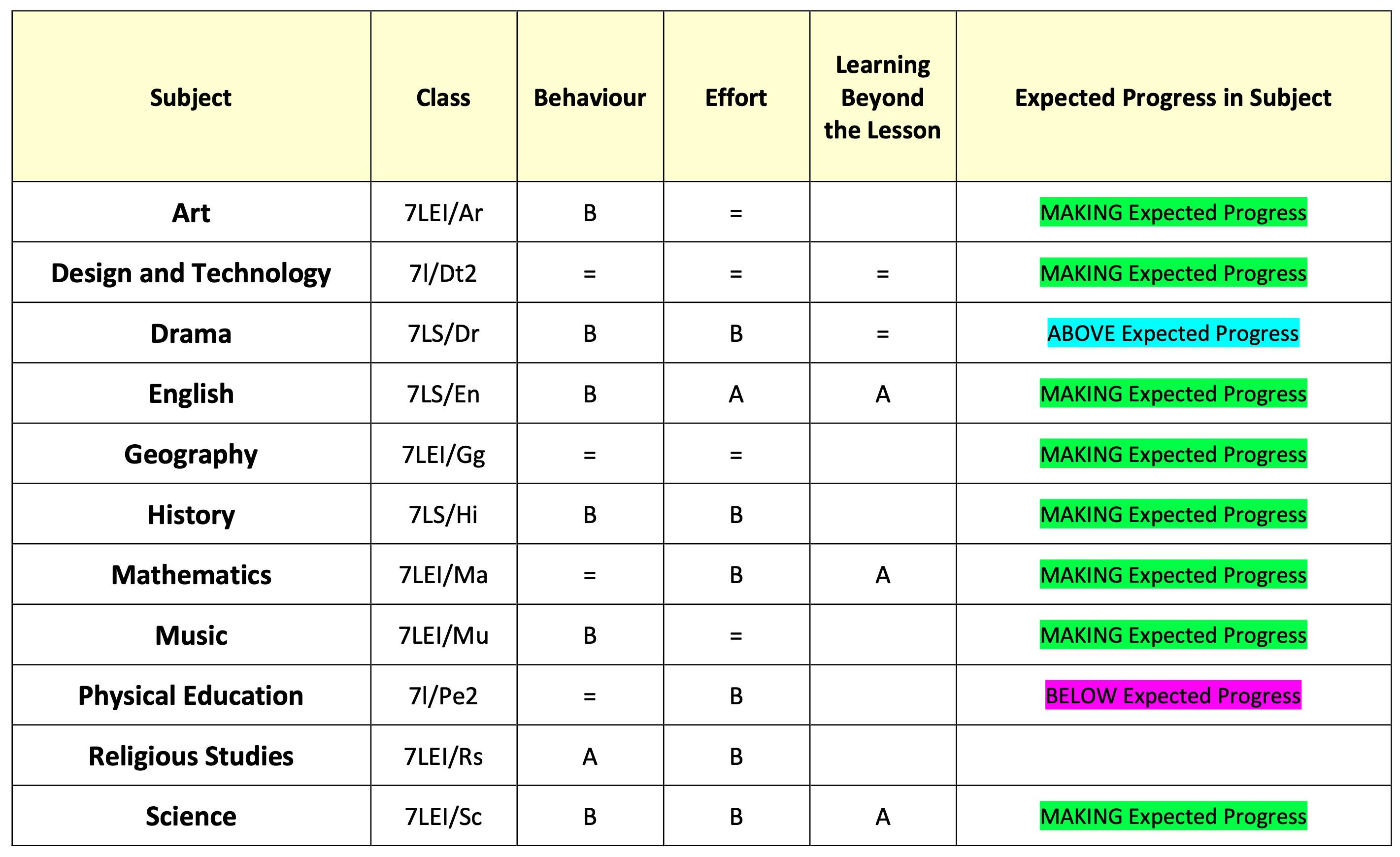 Targets
The purpose of the Noadswood targets are to:
Be realistic

Motivate the student into achieving this result - aspirational whilst remaining realistic

Be useful for the students, parents / carers, and staff to establish progress in each subject when linked to what is currently being achieved
Our Key Stage 3 targets are taken from Key Stage 2 data or the Noadswood Baseline examinations which take place when students first join us in Year 7. English and Mathematics are examined and students are given a scaled score as well as linking this to an "expected standard" which is published by the Department for Education (click link). The expected standard then allows us to identify if students are:
Below the expected standard
Meeting the expected standard
From this baseline, our Key Stage 3 banding targets are produced.
Projected Grades
Projected grades are data driven projections of a grade that a student is likely to achieve at two key milestones:
At the end of Key Stage 3 (end of Year 9 for 2020/2021 intake and beyond)

At the end of Year 11 when GCSE results are published
Projections are produced by the subject teacher based upon classwork / learning beyond the classroom work / formative abilities shown in class and via more summative tests. The subject teacher and department collate results and then quality assures, standardises and moderates, building a picture of how the students in the subject are performing (using professional opinions and judgements to project likely outcomes for the students, based on historic national performances by the subject in previous years).
At Key Stage 3 we look at the starting point for your child, either via primary school data or from our internal baseline exams and then their class teacher makes an informed decision about how they are progressing. The report colour codes if the student is ABOVE their Expected Progress, MAKING their Expected Progress or BELOW their Expected Progress.
---
The Assessment & Curriculum Tracker (ACT)
These documents have been created in conjunction with the curriculum and assessments. Some teams will create an ACT for every assessment while other teams may feel they only require one for each reporting cycle. These tracking documents are important and will have several new benefits:
a simple way of publishing the key performance indicators and content of the curriculum
they will inform (or may even be used as) the mark scheme for the assessment
they will inform students and their parents how well they achieved in the unit of work that has been assessed as well as what needs to be done to reach the next band
they will inform students and parents of the curriculum coverage
they will detail both the required knowledge and skills for that area of the curriculum
differentiated versions can be used by students to self assess and understand what is required to achieve each descriptor
like PLCs they would help students plan their revision
they will identify gaps in knowledge
The ACT documents produced by the curriculum leaders can be found on our FROG VLE parental pages (and via the links below):
---
Star and Wish
Each report (starting from report 2 in 2021/2022) will contain a synopsis of what is currently being studied as well as a star and wish comment, written by their subject teacher, pertinent to what your child is currently studying. This star and wish will give you an indication of how they are getting on and what they can do to embed their learning / enrich it / improve it. We very much hope that these comments will be of genuine benefit to the students, as well as to parents and carers in assisting with their learning and progression within the subject. Subject teachers and Team Leaders will also identify if, from their perspective, students need to attend the virtual subject event for the year (for more information about the events, please click here). These requests are only a guide, and if you wish to speak to all subjects then you are most welcome to book to see all.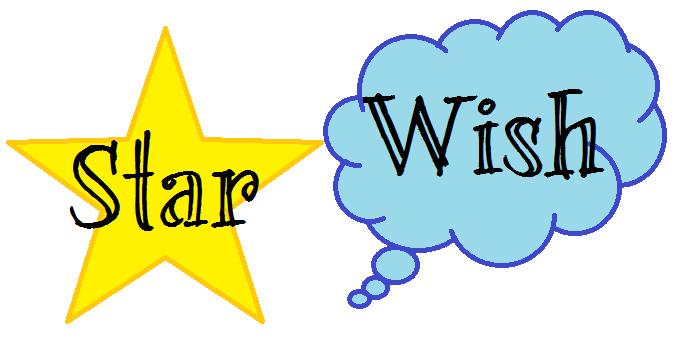 ---
Pastoral Information
All pastoral information can be found using ePraise via the app or computer – this will include the most up-to-date information about points, demerits (including interventions) and attendance. At Noadswood we strive for an attendance figure of 97%+, knowing how much of an impact missed school days have on the overall outcomes for students (as overall absence levels increase, the final outcomes for students by time they reach their GCSE examinations decreases – click for the DfE report).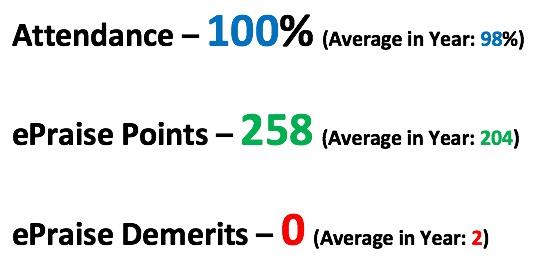 Please visit ePraise to view this information (and help about how to view can be found on our accessing the report page).